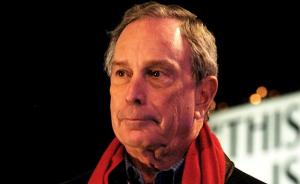 Nothing to see here, folks!
Michael Bloomberg arrived for dinner at the Oklahoma home of former Senator David Boren wearing red–the University of Oklahoma school's color–and bearing three boxes of Junior's cheesecake.
"I always bring a house warming gift when I visit someone and I can't think of anything more appropriate than three Junior's cheesecakes," Bloomberg told Boren, who greeted him in front of a mostly New York media crowd.
"We're really glad to have you," Boren said.
Minutes after Bloomberg arrived, so did former New Jersey governor Christine Todd Whitman. Asked what she hoped tomorrow's bipartisan conference would accomplish,
Whitman said,"We'll see tomorrow."
Later, Sam Nunn arrived and said,"We believe this country has serious problems and we believe the country has let partisanship lead to polarization, and we have to find a way to unwind that."
When asked about a potential third-party candidacy, like, say, Bloomberg's, he said, "I don't think this meeting has anything to do with that."