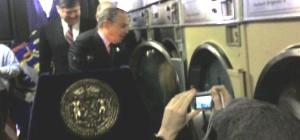 Michael Bloomberg was set to announce his two new initiatives for cutting red tape out of city government at a laundromat in East Elmhurst, Queens, when he realized the tumbling dryers were kind of noisy.
So, he opened the doors to stop the dryers, and, as you can see in the picture above, the clothes came cascading out.
To his credit, the mayor just put them back in and went on with events.
Thanks to the reader who attended, and sent the photo in.