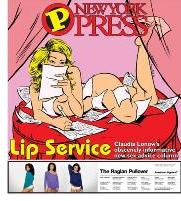 Yesterday afternoon, New York Press editor David Blum sent out an e-mail to Media Mob advertising his newest sex columnist.
just wanted to let you know, we launched a new sex-advice column this week (on the cover, which i've attached)… it's by claudia lonow, a television comedy writer, and i hope you'll think it's funny. anyway, since everyone seems fascinated with the comings and goings of sex columnists, i thought you might be interested.
Jezebel's Moe Tkacik did a post on the column, lightly poking fun at Ms. Lonow for writing about incest in her debut column, and posted two emails that Mr. Blum had sent her. In the emails, Mr. Blum had written that the Q&A's in Ms. Lonow's column had come from friends.
In an interview with Media Mob today, Mr. Blum said that last evening he was going through the comments section on the Jezebel post and noticed this comment: "I swear that incest question is stolen from somewhere but I really should be Googling phrases like 'outline of his boner' at work. Someone help! (I'm thinking Savage Love?)"
Mr. Blum told Media Mob that he started googling and nexising and by the end of the night he found the Dan Savage column in question and had concluded something went terribly wrong. By late morning today, he drafted a letter to Jim Romenesko announcing Ms. Lonow's resignation. In the memo, he wrote that there was an "understanding" that the questions had come from friends and that Ms. Lonow "wasn't aware" that using questions borrowed from a Dan Savage column was a "breach of journalism ethics." (At 12:30pm today, Jezebel did a post of its own saying she had plagiarized).
Mr. Blum wouldn't comment further to Media Mob beyond establishing a chronology of events.
But for those counting, in little over a year, Mr. Blum has gone through five sex columnists. There was Rachel Kramer Bussel at the Voice whom he fired; there was the Married But Not Dead column which died after he was fired from the Voice; he fired Press sex columnist Stephanie Sellars shortly after arriving there; he hired and then fired Kelly Kreth; and now Claudia Lonow has resigned after her first column, a cover story.