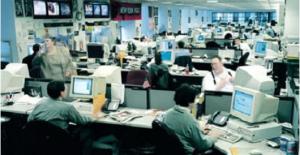 The veteran reporter that we talked to yesterday had more to say about the conditions in the Post newsroom than we could handle! Here's our source's entire description of life on the 10th
You've got people literally crammed into a little over four feet for everything. And it's very noisy—lots of yelling. And on deadline it gets noisy. Everyone tends to join in everyone else's conversation and throw things and yell and you can hear everyone's conversations. Everyone throws in their two cents. They throw pencils, foot stomping, file-drawer banging, phone slams down. Paula from Page Six gets really loud! And people from 10 feet away will yell at her to shut up. No one uses their phone, everyone just screams over the hedge. You have people from two or three rows away joining into each other's conversations. There are people who literally wear ear plugs, or big four-inch round headphones, to drown out the noise, especially on deadline. It's so loud.
One part of the room it's 1:30, the other part of the room it's 10 to 2. In one part of the room it's January 26, the other it's Jan. 29.
It's messy, very messy. There are dozens reporters of whose desks have like, just a cascade of newspapers that fall down the side of their desk and straight down to the floor—you have to navigate to get to the chair. There are file drawers going back to 1996 when we moved here. There are files from people who fired form years ago, files from years ago. There was stuff full of crap.
Oh my god, it's kind of this hodgepodge of old computer terminals. All the chairs are broken. We got these fancy new chairs in 1996 and they're still here! They're broken, and you have to slowly slide and you spend half the day getting to pull the chair back up. Oh! And there are white U.S. postal bins full of shit everywhere!
In each of those sections, there's probably 10 to 12 reporters in each section and have a bin filled with that day's papers.
Oh my god, I'm standing up and looking at this. There's a Christmas wreath on the wall! And it's alive and flaking.
You know the name tags you get? There's a part of the wall where they hang up all the name tags of everyone of people who quit or get fired. Colarusso's is right at the top now.
There are piles and piles of old telephones, old computer terminals, boxes and boxes of old New York Post notebooks, extension cords, I see a laptop in there, cardboard boxes. Jesus.
There's a whole row of telephone books. All the telephone books are piled up, who uses those anymore? There are piled up in between some desks. Then there are some higher cabinets over there.
It is a disaster! You almost get used to it. You carve our your little space and you get your drawer.
You'll open drawers and find lunch from 2001 in there! By the freight elevators there are double doors where there are massive dumpsters of thousands of page of newspapers, discarded computer terminals, chairs, everything that breaks.
It never leaves! People here are so messy.
Several years back, four years ago maybe? A memo went around that said Rupert wanted us to clean up and it started this cleaning frenzy and I think that's the last time we cleaned up.