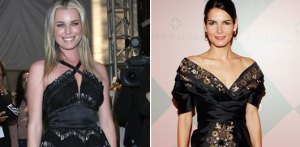 I just flew in from Las Vegas. I was there for the caucuses. With my citizenship interview looming, I felt it was high time I got a firmer grip on the American political system.
O.K., I admit it. That was a lie. I have no time for the American political process at this particular moment. I'm much too preoccupied with the upcoming battle between Cashmere Mafia and Lipstick Jungle to follow the race to the White House.
The truth of the matter is that my trip to Las Vegas was occasioned by something infinitely more fluffy, foofy and improbable. While Hillary Clinton was getting the creases steamed out of her pantsuit in readiness for her triumphant assault on the Mandalay Bay Hotel and Casino, I was—wait for it!—entertaining a large group of hotel concierges! The location? The spanking new Barneys store in the gorgeously fabulous new Palazzo Resort and Casino, which opened last week.
Named after a well-known pant and owned by billionaire du jour Sheldon Adelson, the Palazzo is right next door to the Venetian. If you like to travel by gondola to shop for your Louboutins and your Valextra pocketbooks, you will be glad to hear that the Grand Canal has been extended so that it sloshes up against the entrance to Barneys.
Last Thursday: I am feeling totally Mitt Romney. I don't drink. I don't gamble, and I have no interest in all-night cocaine binges with hookers, and yet here I am in Sin City. Even if I were so inclined, I am much too busy being a dynamic retail exec to indulge in a lot of room-defiling activities. My colleagues and I are in the last-minute frenzied throes of readying our store for the opening party. Things take a surreal turn when Women's Murder Club beauty Angie Harmon, Ugly Betty tranny Rebecca Romijn and songstress-actress Mandy Moore bang on the door requesting a tour, conducted by yours truly, of the racks of spring 2008 Balenciaga and Philip Lim.
This celeb encounter is the high point of my trip: I love to watch A-listers paying full retail. Memo to all you designers who recklessly hurl free frocks at every actress within screeching distance: When push come to Prada, these gals have no problem pulling out their credit cards. THEY ENJOY IT!
Friday: I am being feted by 300 of my closest concierges. (There are about 2,000 total in Las Vegas, so where the hell are the other 1,700?) They have descended on the Barneys shoe department for a breakfast co-hosted by moi and Las Vegas Magazine.
I don't know about you, but I personally love a good concierge: My fantasy is to have them all tell indiscreet stories about their celebrity clients—"the following tidbit concerns the night I hand-delivered tacos/hair color to David Hasselhoff/Britney and was obliged to help him/her masticate them/touch up her roots"—and then give a $5,000 gift certificate to the concierge with the most disturbing story.
This idea does not go over so well with these über-discreet lifestyle providers. In lieu of this storytelling session, I deliver a chirpy introduction to the majesty of Barneys, reminding them that we do not sell pasties and G-strings.
I deem the event a massive hit when one lady approaches me and, after complimenting me on my spiel, asks me if I have taken "the Toastmaster's Course in Public Speaking." This reminds me of the occasion a few years back when, after a similar bout of podium badinage, a lady asked me if I had hired Bruce Vilanch to write my material for me. Clearly, something in my mien discourages people from believing that I might be capable of unfurling an engaging monologue without the support of cue-card-wielding speechwriters.
Saturday: The caucuses begin, and I get my carcass on the first plane back to New York. I make a mental note to hack into the Web upon landing and ascertain the result. I make another mental note to find out what a caucus is.
PS: If Rebecca Romijn married Mitt Romney, she would become Rebecca Romijn-Romney which would then become "Webecca Womijn-Womney" if she went on Barbara Walters.
If Mitt Romney owned an oven mitt, it would be Mitt's mitt.
Viva Las Vegas!