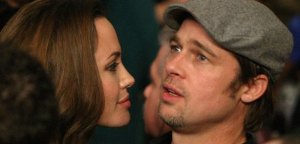 Angelina Jolie is pregnant, according to a source close to the 32-year-old actress and her partner, Brad Pitt. Whether or not she is expecting twins, as some rumors have suggested, was apparently not confirmed by the insider, who contacted Us.
The baby buzz began at last weekend's S.A.G. Awards, where Ms. Jolie arrived wearing a flowing dress that seemed to be specially designed to hide any signs of a growing bump. (Reps for the famous couple refused to comment on the matter, according to the whisper weekly. The magazine also said the source told them that the couple may sell the confirmation story, using the money for charitable purposes.) If Ms. Jolie is in fact pregnant with twins, the famous lovers would bring their child tally to six—some three short of the number at which the couple, according to Mr. Pitt, 44, would "crap out."
On Monday, our reporter Jason Horowitz, traveling on Rudy Giuliani's press plane, asked Ms. Jolie's estranged father, actor Jon Voight, if he had anything to say about the pregnancy speculation. He did—read his comments here.