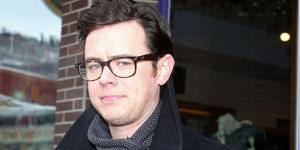 Colin Hanks, son of Tinseltown bigwig Tom, moved here from L.A. last year. In Sunday's Page Six Magazine, the 30-year-old actor answers a few New York-centric questions, shedding light on a few of his favorite things.
Mr. Hanks, who lives in a "small but quaint" West Village apartment, has to endure lots of late-night noise from the bar downstairs. Sleeping through the drunken din is apparently no Biggie for the Orange County actor, but snoozing with the smell of bacon wafting in from a neighboring deli is another story. (His favorite city smell, admittedly "cheesy," is that of Christmas tree stands during the holidays. His least favorite NYC odor: "the entire month of August.")
We'd love to know the name of his neighborhood bodega, where with only $6 Mr. Hanks can pike up some "great" chicken and rice and a bottle of water. But when spending a little more on comestibles, he heads north to BLT Market for its "insanely good brunch." Touting the joie de vivre of a real local, he says his favorite thing about the city is that "there are days when you start out bored, and then you end up doing something unexpected and cool." What that might entail, however, is left up to the reader's imagination.