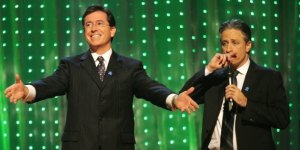 On Wednesday, Jan. 23, in Washington D.C., writers from Comedy Central's "The Daily Show with Jon Stewart" and "The Colbert Report" will be staging a mock debate about the writers strike, called "the State of the Union."
According to today's announcement from the Writers Guild of America, the satiric strike debate will be held in the House Judiciary Room at the U.S. House of Representatives. Congressional leaders, including Jerrold Nadler and Anthony Weiner of New York are expected to attend.
Former White House Press Secretary Dee Dee Myers will "moderate" the "debate."
More from the announcement:
The visit is aimed at helping lawmakers understand the issues at the center of the current WGA strike, which is entering its 12th week. After the debate, the Emmy Award-winning writers and other WGAE representatives will meet with Congressional leaders privately.