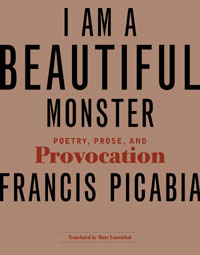 The Dadaist painter Francis Picabia (1879-1953) went through life with no shortage of self-generated noms de plume. To name a few: funny guy, imbecile, pickpocket, failure, cannibal, silly willy and "the only complete artist." He signed off as "Napoleon," "Saint Augustine" and "The Blessed Virgin." Anyone familiar with Dada will recognize its nose-thumbing esprit in Picabia's absurdist designations.
Picabia considered himself the first Dadaist. He was an indispensable component of Dadaist cliques in Paris, Zurich and New York. Marcel Duchamp was a friend, as was Guillaume Apollinaire; the poets Tristan Tzara and André Breton were like-minded anti-aesthetes and eventual nemeses; and the poet Paul Eluard, a founder of Surrealism, was a fan: Picabia, he wrote, was a "divine Marquis de Sade." New Yorkers know Picabia as the painter of I See Again in Memory My Dear Udnie (1914), a staple of the Museum of Modern Art's permanent collection.
I Am a Beautiful Monster, a new compilation of Picabia's writings, displays a man of infuriating contradictions—an obtuse, belligerent, radical, reactionary, strangely lucid and sometimes hilarious gadfly. Luckily, translator Marc Lowenthal has done a superlative job of placing Picabia's writing in historical and artistic context. Arranged chronologically, I Am a Beautiful Monster follows Picabia through his early involvement with, and ultimate abandonment of, Dada.
Picabia's proclamation that "M. Picabia Separates From the Dadas" was spurred, Mr. Lowenthal informs us, over a disagreement between various members as to whether a lost wallet should be returned to its owner. Breton wanted to keep it; Eluard disagreed and returned it anonymously, heightening tensions within the group. Picabia gleaned from this encounter Dada's "departed spirit."
Picabia's pre-Dadaist poetry is all jagged rhythms, haphazard juxtapositions and little punctuation. He fares best when keeping things short. But for every light and lovely homage to Apollinaire, there are a half-dozen fragments like this: "From fortune-tellers of syphilis/ This superstition in the statistics of progress/ Brings bayonets to full strength/ In the language of unpleasant roads."
Picabia does come up with some striking turns of phrase—"the neurasthenia of peculiar obsessions" is good; "The desire to be placid in love/ Is a veritable sex crime" is better—but poems they're not.
The doggerel continues through the Dadaist years, but gains momentum and focus. The sprawling "Jésus-Christ Rastaquouère" is, in Mr. Lowenthal's opinion, Picabia's "most accomplished literary work." Despite its title, the closest Picabia's tract comes to heresy are a few nettlesome sentiments—"Only the Jews are really energetic," say, or "GOD WAS JEWISH/ HE WAS CONNED/ BY THE CATHOLICS."
Elsewhere, you'll find oddball commentary on art world eminences: Fernand Léger "declares that one must always have a foot in the shit." Picasso was "very eighteenth century, must be completely fed up, French guy." In "Manifesto of the Dada Movement," you can feel the rush of an artist temporarily on the side of history: "YOU DON'T UNDERSTAND WHAT WE'RE DOING DO YOU. WELL DEAR FRIENDS WE UNDERSTAND IT EVEN LESS THAN YOU DO."
"Anti-Dada, 1921-1924" is the most vitriolic chapter. "I parted from certain Dadas because I was feeling stifled among them … [and] terribly bored." Its "spirit only existed for three or four years, it was expressed by Marcel Duchamp and myself." (Duchamp was one of the few people who escaped Picabia's ire.)
Picabia's short-lived movement, "Instantism," was little more than a satiric broadside at Dadaism. He makes a stunningly prophetic statement: Dada "will live forever! And thanks to it, art dealers will make a fortune."
Other than "Chi-Lo-Sa," wherein Picabia shamelessly cribs from Nietzsche for a string of fortune-cookie nostrums, the later and posthumous writings are notable mainly for sharp flashes of impenetrable wit: "Humor is the cannibalism of vegetarians." But if history does remember Picabia the man of letters at all, it will be for the aphorisms.
Littered throughout I Am a Beautiful Monster, they are sometimes mordant—"Every conviction is an illness"—and often laugh-out-loud funny: "To those talking behind my back: my ass is looking at you." "Morality is ill disposed in a pair of trousers." "Parisians ruin the French." "If you read André Gide aloud for ten minutes, your breath will stink."
During "Dada Cannibal Manifesto," a performance in the early 1920's, André Breton wore a sandwich board with text by Picabia: "IN ORDER TO LOVE/ SOMETHING YOU HAVE TO/ HAVE SEEN AND HEARD IT/ FOR A LONG TIME YOU BUNCH OF IDIOTS." The invective here was directed at the bourgeoisie. It would, in time, encompass Picabia's feelings about his former partners in nihilism.
I Am a Beautiful Monster traces a fascinating trajectory of artistic belief. Biographers and historians will gobble it up. The rest of us will leave it on the bookshelf, read, if at all, in bits and pieces. Still, we'll be glad to know it's there.