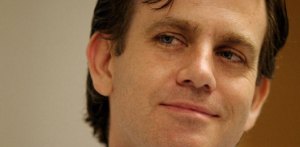 Kevin Sheekey was walking through the Sheraton Hotel, holding The New York Times and a cellphone he was ignoring.
"I was on the phone talking with Colin Powell last week and he said, 'You're tougher to reach than the mayor is,' and I said, 'Yeah, I kind of like it that way,'" he said.
Mr. Sheekey, 41, is Michael Bloomberg's closest political aide, and the architect of the mayor's unannounced-but-still-possible independent presidential campaign.
People have noticed his work.
"I gave Katie Couric your cellphone number," Jordan Barowitz, a former Bloomberg spokesman, told Mr. Sheekey in the lobby of hotel.
"Did you also tell her I don't pick up the cellphone?" Mr. Sheekey deadpanned. "I give everyone my cellphone number. That's why I change it every six months. All you do is change your phone number and e-mail every six months. And if they can't find you, they probably shouldn't be talking to you in the first place."
Shortly afterward, Mr. Sheekey bumped into Bill Cunningham, a managing director at Dan Klores Communications and a seen-it-all political veteran who worked with Mr. Sheekey in the Senate and on two campaigns for Mr. Bloomberg.
With Mr. Sheekey standing next to him, Mr. Cunningham described him as "a Joycean figure," and "mythical, in the annals of New York politics."
It's not such a stretch.
In the world of New York politics, Mr. Sheekey is kind of a cross between Tom Brady and Keyser Söze: at once a sharp-dressed, fair-haired golden boy and the public face of the prospective Bloomberg bid for national office, but also a frightening specter who pops up at events and then disappears, unreachable by any means of communication, until he decides to surface again.
"Kevin doesn't have to play the bad cop," said New York City Councilman James Oddo, a Republican from Staten Island. "It's almost like he lets the money be the bad cop. He didn't feel like he had to come into the room with a chip on his shoulder, the way some people, I think, used to be in the administration. At least that's how they dealt with me."
But, he added, "politically, he'll cut various parts of your body off if the occasion called for it. I'm not naïve thinking he's angelic or the second coming of Mother Teresa."
Officially the deputy mayor for intergovernmental affairs—but rechristened last year by Newsday's Dan Janison as "deputy mayor for political promotion"—Mr. Sheekey has been able to have his way with a press corps obliged by his boss' billions to treat the playful hints about an improbable third-way bid for the White House with near-complete seriousness. He knows this, and it pleases him.
(He told me, after I chased him down three flights of stairs in Albany earlier this month, "It's when you stop calling that makes me unhappy.")
One gets the distinct impression as he drops hints about his—and Mr. Bloomberg's—aspirations that he's giggling about the whole thing.
At 10 a.m. on Nov. 26, Mr. Sheekey left his New York network on Facebook and joined the one in Washington, D.C., where he grew up, lived and worked until moving to Central Park West after Mr. Bloomberg's initial election. Then, on Dec. 2, he joined not one, but three, FaceBook groups encouraging Mr. Bloomberg to run for president.
In terms of his provocatively public presidential flirtations, Mr. Sheekey certainly seems to keep his own counsel on talking to reporters—the official line out of the City Hall press office is that the mayor is "completely focused on New York."
And Mr. Sheekey's daily schedule, some pieces of which were made available under a Freedom of Information Law request, clearly illustrates the way he's straddled the line between city governmental business and, well, other.
On Thursday, February 9, 2006, at 10 a.m., for example, he met with Randi Weingarten, the teachers union president, and Gigi Georges, a consultant with ties to the Clintons, at City Hall Restaurant. At 3:30 p.m., he met with City Hall staffer Jeff Kay for a "community weekly papers meeting" at City Hall (the office). At 4:30, Mr. Sheekey met with Councilman Joe Addabbo of Queens, and at 5:30 p.m., he scheduled time to attend a "cocktail reception" for Hillary Clinton's chief pollster and strategist Mark Penn at his firm's headquarters at Burson-Marsteller.