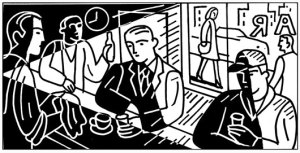 Despite the best efforts of Rudy Giuliani and Mike Bloomberg, most neighborhoods in New York still have at least one bar that opens at 8 a.m.
In Midtown East, there's the Blarney Stone on 49th Street and 3rd Avenue. Midtown West has Rudy's, Holland's and Smith's. In Chelsea, there's Walter's. And in the East Village there's the Blarney Cove, about as wide and long as a single bowling lane, where the last vestiges of the Mid-Day Gentlemen's Club convene each morning.
Here, on a given day, from around 8 a.m. to noon, anywhere between four and eight elderly men clad in a thick flannel shirts, cardigans, bifocals and scally caps—or some variation there of—can be found perched on their regular stools, tearing it up.
Frank, a powerfully built man with a thunderous voice, holds down the corner seat next to the jukebox.
"You goin' to Associated?" he asked of his friend on a recent Thursday morning. His friend, whom everyone calls Cookies, sits several seats down from Frank and always makes at least one daily journey to the supermarket.
"You think they got that Fleischmann's?" Frank asked, referring to his favored brand of margarine.
"I don't know," Cookies responded. "Sometimes they do, sometimes they don't."
"They don't have the three-pound tub?"
"I don't know."
Taking up the seat to Cookies' left was Jimmy "Peanuts" Piera. At 80, he's the oldest of the gang.
"Every place used to open at 8," Peanuts said. (The bartender, Popeye, had given Jimmy Peanuts his nickname. He is alternatively called Jimmy Viagra or Pierre.) "Before, the people who ran the bar owned the joint, so they didn't have to pay anybody. Now they all have bartenders."
Jimmy Peanuts has been in the East Village since he was 12. At 18 he joined the Army. After his tour of duty, he came back to the neighborhood.
"At that time, every bar had a stickball team," Peanuts said. "On the weekends we'd hold games, this bar against the other bar." Mousey's bar on 13th Street and Avenue C always won.
Rosa, who was tending bar this morning, asked if anyone remembered Joe's on Sixth Street. Which reminded Frank of about 10 other bars of yore, including a place called Allen's, on 14th Street, which he noted has since been replaced by a gay bar, Nowhere Bar. Cookies remembered some women of the night who used to hang around that area. This stirred up a painful memory for Peanuts.
"I remember one time my buddy and I flipped a coin to see who got lucky first," he said. "I'm the lucky guy—meantime, I get the clap."
"Me and my buddy, we were roofers, you know," he explained. Peanuts is short frail man with big blue eyes, sparse white hair and a fair smooth complexion. He recently had a hip replacement. He drinks Budweiser out of a highball glass. "So it was raining too hard to do any roofing. So we were sent home. We got off the train at Union Square. And we walked down to this bar. And this girl put her arms around me and him: 'Anything I can do for you boys?' Yeah, you can do something for me, gimme the clap."
Fortunately, they had a V.D. clinic on the West Side in those days.
"She's a nice actress, nice lookin' woman, that Kathleen Turner," bellowed Frank, looking at the TV. Romancing the Stone was playing at low volume.
"She thought I was gonna beat her up or something," said Peanuts, still on the hooker. "Hey, at that time I was 184 pounds, you know. I had big shoulders and muscles."
Everyone at the bar—including "silent" Bobby who had slunk in and taken up his spot down at the end of the bar—was by all rights a Mid-Day Gentleman. But Peanut's face is the only one pictured on the Charter Members board that hangs above the bar.
How come Cookies—who had returned from Associated with provisions, including donuts and lottery tickets—isn't on the board?
"He don't want to be on the board," Peanuts replied. "Most people on that board are dead."
The following morning at 8:30 a.m. up at Rudy's on 44th Street and Ninth Avenue, Ernie Schroder was enjoying a drink from under the brim of a well-worn leather cowboy hat. "Sometimes it's the leftovers from after hours, some restaurant people—there's a number of them—and then there's some office working people, but mostly it's lots of retired people," he said. Now 64, he managed Rudy's for years before recently retiring himself. "There also the unemployed supposedly looking for work, who need a drink to bolster their chances."