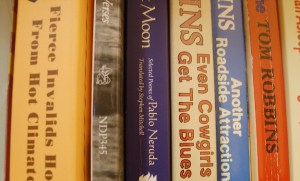 Ecco, an imprint of HarperCollins, will publish a new novel this fall by Tom Robbins called B is For Beer.
According to HarperCollins executive editor David Hirshey, who is editing the book, it is about 100 pages long, and takes the form of a "hallucinogenic hymn to beer, children, and the cosmic mysteries that sustain us all."
Mr. Robbins, author of Even Cowgirls Get the Blues, has not written a novel since 2003's Villa Incognito, and B is for Beer will be his first since leaving Bantam Books, his publisher of almost 30 years.
Mr. Hirshey worked closely with Mr. Robbins as his editor at Esquire from 1985 until 1995, but had fallen out of touch with him in recent years. In fact, Mr. Hirshey said, he had not spoken to Mr. Robbins in a decade and had not been able to track down his contact information, when he got a phone call from him out of the blue about a week before Christmas.
"He calls up and tells me that he's left Bantam Books and he has something that he thought I might enjoy reading," Mr. Hirshey said. 'And then he says, 'Do you know anybody at Ecco? Two of my greatest heroes are Leonard Cohen and Charles Bukowski and I know that they're both published by Ecco. It would make me really happy to be part of that pantheon.'"
Mr. Hirshey called Ecco editor-in-chief Daniel Halpern and told him about the book, and Mr. Halpern agreed immediately to publish it.