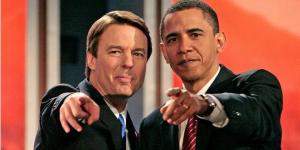 Hillary Clinton finally got angry.
Less than a week after losing her front-runner status with a crushing loss in the Iowa caucuses, she found herself fighting for her political life on the stage of Saint Anselm College.
She went directly after Barack Obama, attacking him for what she said were inconsistent positions on health care and funding for the war in Iraq, and arguing that he had not received sufficient vetting.
She met with a concentrated, and combined, backlash from Obama and John Edwards, who needs to end Clinton's candidacy to have any chance of staying viable.
"He could have a pretty good debate with himself," Clinton said of Obama. She said to him, "You have changed your positions in three years." And: "What we are looking for is a president we could count on."
After weeks of complaining that the media was handling Obama with kid gloves, she had clearly decided to take the matter into her own hands.
"There is a lot of room to ask all of us questions," she said, adding that she "it is fair for people to understand" that Obama was guilty of many of the things he had campaigned on changing.
While Obama sought to respond to Clinton on the merits of her attacks, Edwards went for the throat, casting himself and Obama as a united front against the salvos of Clinton, the insider.
"Both of us are powerful voices for change," he said. He added, devastatingly "May I point out that we finished first and second in the Iowa caucus," and, "I didn't hear these types of attacks from Senator Clinton when she was ahead, but now we do."
Edwards' razor-sharp counter-attacks allowed Obama to seem more measured, but had the effect of absolutely enraging Clinton. She fumed that while her two adversaries talked a good came about change, she had actually accomplished it.
"I want to make change, but I have already made change," she said, almost screaming.