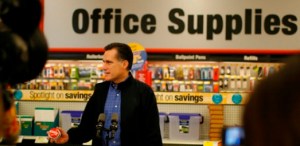 Tomorrow the New York State Board of Elections will meet about buying electronic voting machines—and the Brennan Center says they have to be stopped.
Dan Janison explains the logic behind Eliot Spitzer's decision to increase the budget slightly.
Eliot Spitzer's budget presents a problem for education advocates, writes Liz.
Sally Goldenberg looks at Bloomberg's new commission.
Representative Ron Klein of Florida wants all the presidential candidates to declare where they stand on a national catastrophe fund.
Mitt Romney pursues the Jewish vote in Boca Raton.
The Fix says Fred Thompson won't make an endorsement in the near future.
Rudy Giuliani downgrades Florida from "must win" to "important win."
Hillary Clinton's new ad criticizes George W. Bush on the economy.
Giuliani supporters clash with protesters at a campaign event.
Ben reports on a California PAC that is ready to help Obama.
The State, one of South Carolina's most influential newspapers, endorses Obama.
Huckabee is looking for free TV appearances through campaign stops in the South.
Bill Richardson is asking for help from supporters to pay off campaign debt.
Aaron Nepartstek at Streetsblog questions whether owning a car is a right for people who live far from Manhattan.
Obama talks about faith with Beliefnet.org.
Marc Ambinder remembers that the Louisiana Republican caucus is tonight.
UPDATE: Brooklyn Borough President Marty Markowitz has put out a statement about the death of actor Heath Ledger, who had lived in Brooklyn:
"The sudden and tragic death of former Brooklynite Heath Ledger is sad news to his fans and movie lovers in Brooklyn and around the world. My condolences go out to Mr. Ledger's loved ones as we mourn the passing of this huge talent taken from us far too soon."