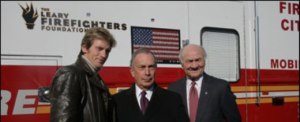 Joe Bruno continues to complain about Eliot Spitzer's budget.
The Working Families Party doesn't like Spitzer's budget, either.
Chris Cillizza can't get a straight answer on why Rudy Giuliani's new web ad didn't go on the air.
Duncan Hunter endorses Mike Huckabee.
Al Gore has still not endorsed a candidate, but he did endorse gay marriage.
Representative Clay Shaw of Florida endorses Giuliani.
Rudy also has Greg Brady's support.
Andrea Bernstein looks at Giuliani's record on post-9/11 air quality.
Eliot Brown reports that Vito Lopez wants to take a Pfizer plant in Williamsburg by eminent domain.
Barack Obama's lawyer complains to the Nevada Democratic Party about the caucus.
Liz looks at the Spitzer's big donors.
Former New York Secretary of State (under Pataki) Randy Daniels is endorsing John McCain.
Mitt Romney is changing his message.
Spitzer's budget will increase the fees of real estate closings.
Southern Voice says Michael Bloomberg would be a "wildcard in the competition for gay votes" should he decide to run.
A lot of Greg Sargent's readers discuss the John Edwards fund-raiser.
Sheinkopf, Muzzio, Miringoff, Carroll and Blum are getting together to talk presidential politics.