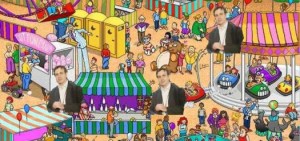 Michelle Obama takes on Bill Clinton, via email.
Karen Tumulty thinks the Clintons are playing good cop-bad cop.
Reform NY approves of choices being made for voting machines so far.
Fifty-three percent of nearby residents want Indian Point Nuclear Plant open.
Radar is reporting that the New York Times will endorse Hillary Clinton this weekend. [added]
Jim Molinaro backs Adolfo Carrion for comptroller.
Gay City News reports praise for Eliot Spitzer's A.I.D.S. budget.
Fred Thompson could have won the Louisiana caucus.
Rudy Giuliani puts out a new ad that at least partially explains why yesterday's web video wasn't bound for T.V.
John McCain is the Democrats worst nightmare, he says.
Eliot Brown says Bloomberg's budget shows him braced for a drop in the real estate market.
Hillary Clinton and Barack Obama both support the catastrophe fund, a big issue in Florida.
Hillary may be setting herself up for a third-place finish in South Carolina.
The "Gay George Soros" visits Albany.
Blue Jersey reports Run D.M.C. at the New Jersey state capitol.
The Economist says race in the campaign is "a very dangerous game."
In case you missed it, some of Obama's voting behavior in Illinois continues to draw attention.
Fred Thompson's lawyers and scholars decamp to Mitt Romney.
Giuliani will tell Larry King tonight, "we're going to win Florida."
And pictured above is art inspired by Kevin Sheekey's elusiveness.