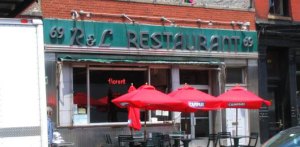 In 1985, when Florent Morellet opened his eponymous restaurant on Gansevoort Street, the space, he said, "screamed at me 24-hours." With its warm, buttery lighting and cheerful servers, Florent remains a perfect place to linger over a plate of roasted chicken and whipped potatoes at two in the morning. Today, however, brings the sad news that Florent, the iconic meatpacking-district restaurant, may soon close its doors forever. In November, we spoke to Mr. Morellet about his always-open francophilic eatery.
"With a big window open to the street, it has that Nighthawks feeling," Mr. Morellet told the Observer at the time, referring, of course, to the iconic Edward Hopper painting of a city diner in the still of the night. "You can look outside or look from the outside in, and there is something very open," he added softly.
Since moving to New York from France in 1978, the HIV-positive Mr. Morellet, the son of celebrated Conceptual artist, Francois Morellet, now in his mid-fifties, has become widely known as the patron saint of the meatpacking district.