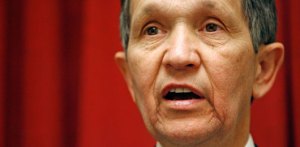 Usually when a presidential candidate drops out, the immediate question is whether he or she will endorse one of the remaining candidates.
But with Dennis Kucinich, who's spent the last five years seeking the presidency with little to show for it and who formally abandoned his second bid this afternoon, there's a more interesting question: Has he ruined his political career?
Kucinich didn't say so, but the real reason he's dropping out now (instead of hanging around through the convention, as he did in '04) is because his Congressional seat is now imperiled. He faces four primary challengers on March 4, but one of them stands out from the rest: Cleveland Councilman Joe Cimperman, who has some name recognition, lots of money, and some key machine support. Not coincidentally, it was just a week ago that Frank Jackson, the mayor of Cleveland, endorsed Cimperman over Kucinich in the primary.
Kucinich has earned the wrath of many voters and establishment Democratic figures in Cleveland for spending so much time pursuing—with very limited success—a role on the national stage while clinging to his day job as the city's voice in the U.S. House. His second White House bid has been particularly detrimental on the local level because he promised in his '06 re-election campaign not to run for president in 2008.
A parallel can be found in former Republican Congressman Robert Dornan, a fiery California right-winger who mounted a scattershot presidential bid in 1996, becoming something of a punch line en route to miserable showings in Iowa and New Hampshire (in one of his final New Hampshire speeches, he begged the audience to help him crack the one percent mark in the state, to no avail). Upon his return to the Orange County district he'd represented for 20 years, Dornan was greeted by an unamused electorate and was unseated in the 1996 general election by Loretta Sanchez.
Kucinich has represented Cleveland, where he served as mayor in the 1970s, since 1996. Now he has less than six weeks to save his job.