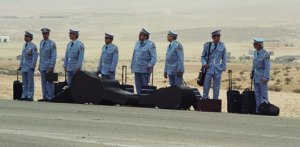 THE BAND'S VISIT
Running Time 87 minutes
Written and directed by Eran Kolirin
Starring Sasson Gabai, Ronit Elkabetz, Saleh Bakri, Khalifa Natour
The Band's Visit is a lovely first film from young Israeli director Eran Kolirin that offers a Middle Eastern inflection on the bittersweet stylings of Jim Jarmusch and Aki Kaurismäki. This usually means long, slow pauses, no action and head-scratching finales that prompt the viewer to ask, "Huh?" But the sweetness of the film and the honest observations about opposing societies finding common ground ratchet it up a few notches from the usual tedium brought by currently critically popular directors with no sense of tempo. Eight Egyptian musicians from the Alexandria Ceremonial Police Band arrive at an airport in Israel to play a concert at the opening of a local performing arts center. When their hosts fail to meet and greet their plane, they resort to Plan B, which is the bus. There they stand at a remote bus stop, decked out in loud powder-blue uniforms, slowly realizing they are hopelessly lost. Battling pay phones, grappling with language barriers and more than a bit apprehensive that they are on their own in a hostile country, the orchestra mistakenly take the wrong bus, make a wrong turn, and end up in the desert. Discovering that the last bus back to civilization has gone, they are forced to throw themselves at the mercy of the citizens of a country housing project, rather like a modern kibbutz, where nobody has a clue how to get to a place called the Arab Culture Center.
This is where the fun begins. Grudgingly accepting the sanctuary of a kind-hearted bar owner named Dina, they resolve to spend one single weird and wonderful night in this desolate nowhere town. Think New Yorkers stranded in a whistle stop in the Louisiana swamp. But as the band members endeavor to avoid trouble by being discreet and unobtrusive, the film pivots on the blossoming relationship between the sexy Dina and the irascible conductor, Tewfig, a union symbolic of the idea that there is a potential for political and cultural resolution between Arabs and Jews if they can just make it over the first awkward hurdle.
The fledgling director juxtaposes broad comedy (one especially memorable culture clash takes place in a roller disco) with sparse ironies of character and observation, and what might have easily been a one-note rag ends up a fully arranged concerto. The frustrations of strangers displaced in a foreign land, unfolding in a shaggy-dog narrative, makes for a surprisingly touching movie. By the end, conflicts are resolved, misunderstandings are corrected and differences are overlooked through the universal peace of music. The director sets the film "not long ago," but admitted to me in Toronto that it reflects his childhood in Tel Aviv and his nostalgia for the days when Egyptian movies that were all the rage were broadcast side by side with Israeli concerts on national television. His movie doesn't glorify the past, but it's pretty obvious Mr. Kolirin yearns for a simpler time, when shared pleasures like food and music had the potential to bring people together with less formality than bureaucratic summit meetings.
A big hit on the film festival circuit, The Band's Visit was met with rapturous applause when I saw it last year in Toronto. Its appeal lies squarely in its gentle nature and abundance of understated feeling. It has few words and a big heart. As one critical observer remarked, it sort of runs at you with open arms.