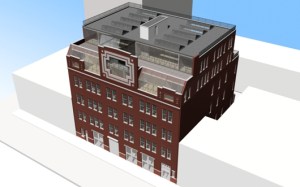 The pioneering gallery that ignited Chelsea's transition into a contemporary arts hub is being developed into a rental building with exhibition space.
We first broke in early December the news that the Dia Art Foundation had sold its building at 548 West 22nd Street for $38.55 million to an unknown buyer. Back then, the Dia's director, Jeffrey Weiss, said the museum was looking to relocate to "disused space" in a different neighborhood, and ruled out opening a new branch in Chelsea.
On Monday, Joseph Pell Lombardi, the architect hired by the unknown buyers to redesign the four-story former Dia gallery, e-mailed us a rendering of what the building will look like. The existing 38,100-square-foot structure will house "high-end gallery space," and an additional two and a half stories is slated for construction for 22,380 square feet of residential space. The gallery spaces will rent for $100 to $120 per square foot, and residential penthouses will rent at $75 to $90 a square foot.
I have a call out to Mr. Lombardi to see if any tenants have signed on.