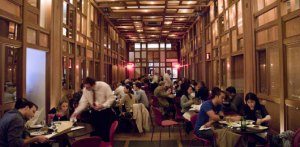 I was barely 7 when my family moved to Beirut, but I still remember the food: the fried kibbeh (meatballs with bulghur), the kefte (meatballs again, cooked on skewers over charcoal in our kitchen) and the vine leaves that I was allowed to help stuff with rice, wrapping them into small, untidy packages.
We spent two years there, before the city was torn apart by war, back when it was known as the Paris of the Middle East and one of the loveliest cities in the world. So why, then, in New York City, where you can trip and fall into, say, a Uighur joint, are there so few full-blown Lebanese restaurants?
Al Bustan, near the United Nations, has until now been the standard-bearer of the cuisine, which is similar in many ways to the cooking of Greece, Turkey, Syria and Egypt. Ilili, which opened two months ago in a former carpet warehouse on a desolate part of lower Fifth Avenue, aims to fill the gap and largely succeeds.
The name, which means "tell me" in Lebanese slang, was the idea of the chef and owner, Philippe Massoud, who comes from Neyla, a highly praised Mediterranean restaurant in Washington, D.C. Massoud's diverse menu combines traditional dishes with a fusion of Mediterranean and Lebanese cuisine and some fancy new ideas. Kefte with foie gras, anyone? (Don't scoff too quickly: Remember Daniel Boulud's foie gras burger?) The kefte, which are made of beef, are stuffed with chunks of foie gras that melt like butter into the ground meat, making it wonderfully rich and unctuous.
Mr. Massoud makes his kebabs from Wagyu beef. They're $56 a skewer, so I opted instead for the lamb kebabs, which were juicy and lightly charred, served on discs of pita spread with sauce. Everything I tasted here that was cooked over charcoal was terrific. Mr. Massoud also reinvents the shawarma, that popular Middle Eastern street wrap of meat and vegetables rolled up in pita bread. His version combines shreds of duck with pomegranate and fig in a green onion and garlic dressing. You get two in an order; they arrive at the table in Lucite cones perched on a rack.
Ilili's décor is reminiscent of a grand Parisian cafe in the early 20th century (or the Old Lebanon, if you will). A mirrored hallway leads into a lounge and a crowded bar, where international pop music plays on the sound system. After a drink in the lounge, we were led through a glass door into the dining room. It is double height, paneled in wood, with copper-trimmed mirrors and set with round tables made of polished black oak decorated with candles. A claustrophobic annex in back seats the overflow.
Being that this is a trendy restaurant in 21st-century New York, the large tables scattered through the main room are often filled entirely with young, single women. This lends the room a buzz without making it unpleasantly noisy, although one evening we were taken aback when the waitress told us that one of the specials was squirrel with pine nuts and scallions.
"Head on or off?" asked one of my friends, without missing a beat. She had said escarole.
"We are offering a communal dining experience," the waitress went on to explain solemnly as a busboy set down a basket of crisped pita squares with labne (thick Lebanese yogurt) and olives. "Think of the food as tapas," she said, recommending we order three dishes each.
The long and enticing menu makes this an appealing route: It's made up of small plates designed for sharing (and prices that add up nicely). The baba ghanouj has a wonderful smoky charcoal taste; warmed eggplant slices are glazed with tamarind molasses, and the tabbouleh is made the way it should be, with tons more parsley than bulghur. I also loved the fattoush bread salad tossed with a sumac vinaigrette, and the plump, juicy shrimp cooked in their shells in a cast-iron pan.
One of Mr. Massoud's most original creations is the brussels sprouts, fried so their leaves were crisp and served with grapes, walnuts, mint and a thick fig purée. A curious combination, but it works, the grapes and mint adding a refreshing summery note to a wintry dish.
All three fish dishes I tried were also excellent: the delicate fillets of red mullet with pita chips, tahini and lemon; the seared branzino with sweet sesame and orange on a bed of tart greens; and the black cod with dried za'atar, pomegranate seeds, molasses and fennel.
The international wine list is well chosen and reasonably priced. I recommend trying some of the Lebanese wines from the Bekaa Valley. I especially liked the Kasara cabernet sauvignon (better than the blanc de blanc), and the Château Musar cuvée rouge, both 2003 and priced at $50 a bottle.
The desserts are one of Ilili's shortcomings. A hot chocolate cake is fine but like every other. The essmalieh, a round sandwich of shredded filo pastry, is filled with achta, a sweet cream cheese, and sits in a pool of pistachio syrup scented with rose and orange blossoms. Perfecly pleasant, but not exciting.
And then, because it is New York City, our waitress asked if we were "still working" on the dessert.
"We didn't come here to work," said my companion.
No, we did not. In fact, a meal like this reminds me of a Lebanese saying my parents used to quote when they were reminiscing about the good old days in Beirut: "Bukra fil mish mish." It means, literally, "Tomorrow when the apricot flowers." In other words, don't do today what you can put off till tomorrow. Dream on. And certainly do not work on your food.