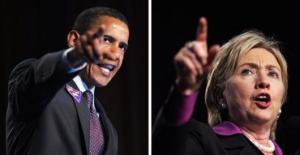 Two new independent polls, both conducted on Friday and Saturday, show the Democratic race dead even in New Hampshire. CNN's has Obama and Clinton knotted at 33 percent — a three-point gain for Obama from before Iowa and a one-point drop for Hillary. The Concord Monitor has Obama ahead 34-33 — again, only a slight gain for Obama from pre-caucus polling.
The news certainly could have been worse for the Clinton campaign. But it's not necessarily good.
On Saturday night, the Clinton campaign fired off a press release headlined, "WHAT IOWA BOUNCE?" and contrasted Obama's apparently paltry gains to the larger ones made by John Kerry and Al Gore, the last two Iowa winners.
What the Clinton campaign doesn't mention is that the Iowa bounce has always taken several days to appear fully in the polls. For instance, Al Gore did receive a boost from Iowa in 2000, but the CNN poll cited by the Clinton campaign in its release didn't come out until four days after the caucuses. The new polls out tonight come less than 48 hours after the Iowa results came in.
In other words, it's premature to say Obama hasn't gotten a bounce from Iowa. The problem is that news organizations are rushed to conduct post-Iowa polls this year, since the window between Iowa and New Hampshire has been reduced from 8 to 5 days. Obama's bounce may only be beginning — and it may not show up fully until the actual votes come in on Tuesday night.