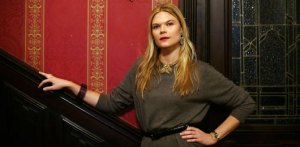 To a certain segment of New York, the one that attends parties thrown by fashion designers and glossy magazines, or reads about them on Style.com or Women Wear Daily's Web site the next day—Kate Schelter is instantly recognizable: Blond and leggy, decked to the nines, mugging for the camera and seeming to have an extraordinarily good time at events where a majority of guests are strenuously networking or social climbing. Ms. Schelter, 31, resembles, even at her most glamorous, a Princeton lacrosse captain. You get the sense she wouldn't have talked to you in high school.
Yet even friends and acquaintances may be unclear about what, exactly, Ms. Schelter does. She's been variously referred to in the press as a stylist-photographer, photographer-marketer, party girl, trend forecaster and, by the Page Six informant who (wrongly) accused her last February of masterminding the now-defunct Web site SocialiteRank.com, as "some kind of fashion consultant." And she is—or has been—all these things. But lately, working for clients like the designers Zac Posen, Lucy Sykes Rellie and Holly Dunlap of Hollywould, she prefers to think of herself as a sort of creative director-for-hire, whose calling, she explained, is "creating the look and the feel, but also the heartbeat, of a brand." And in a city of self-branders, her services—which "are up there with the higher end, you might say," as she put it, in terms of price, and include access to her Rolodex, her bubbly enthusiasm and her personal aesthetic—are in ever-increasing demand.
"Let's face it, a brand is no longer signage and packaging," Ms. Schelter said. "Brands are living, walking, talking personalities and entities." It was a recent frigid winter afternoon, and she was sitting on a velvet cushion at the Gramercy Park Hotel's Jade Bar, wearing a chunky blue sweater over svelte, dark skinny jeans and knee-high black boots. To her left sat a massive Eskimo-style fur hat. "Probably coyote," she said in a low, almost husky voice. "It's the only thing that keeps me warm."
Ms. Schelter had popped over to the hotel from her apartment and office just beneath Gramercy Park, where she has lived and worked for three years. The neighborhood is very her, she said. She described her first visit as "sort of like seeing a guy across the room at a party. I was like, 'How do I make this happen?'"—the same sort of moxie she brings to most daily endeavors.
"One of the things I love about being creative is that basically, if I can see it … I always believe that the human spirit can accomplish anything," Ms. Schelter said. "As long as you have that vision. The execution can be difficult, but yeah, you can get there."
From Shutterbug to Subject
Ms. Schelter grew up in Philadelphia, the youngest of four children born to creative parents: Her mom was an interior designer who now takes art classes in Paris, and her dad a city planner who studied architecture at the Harvard School of Design. Young Kate studied graphic design and photography at the Rhode Island School of Design. Most of her classmates moved to New York, but she went to Los Angeles instead. "I wanted to try something different," she said. "I was always interested in fashion, but not, like, making clothes. Now I can see it would be called marketing, branding, but at the time I just knew I loved fashion."
In L.A., Ms. Schelter worked in graphic design and later on various viral marketing campaigns for films (one credit: Coyote Ugly), before landing a job at the Limited photographing the stylistic proclivities of her social set, or rather, "the hopes and desires of kids in their early 20's, and the mood of the culture and fashion," as she put it. Her set at that time included Maroon 5, Jena Malone and Maggie Gyllenhaal before they were famous. Eventually, she realized she needed to head back east. "I was like, 'Wait, where's the fashion industry?'" Ms. Schelter said. "I thought it was something I was doing wrong. I was looking for New York in L.A., and it wasn't there."
"She was almost too sophisticated for what was going on here," said a West Coast friend, the clothing designer Jesse Kamm. Ms. Schelter moved to our parts in February 2003, unknown to most of the high-placed fashion-industry people she now calls friends. She quickly parlayed her portfolio into trend photography for Vogue, V and Style.com. "I'd just sort of go up to people and be very conversational," she said of her methodology. "You know, girls you'd want to be friends with." She preferred shooting unconventionally stylish civilians to celebrities, and while she was fast becoming a recognizable camera-wielding presence at parties, she continued to pursue Web design, styling and branding jobs by day. "When I was young, I was like, 'Give me what you got. I'll do anything,'" she said. "If I liked someone's work, I would just contact them, and I ended up getting a lot of jobs that way. I'm good at reaching out to people and making myself useful, basically."
Ms. Schelter also wasted no time getting to know people in more purely sociable settings. After Ian Schrager bought the Gramercy Park Hotel in 2003, before he began renovations, she threw weekly parties there for friends, during which she'd often snap photographs. "She throws awesome parties," said Gloria Fallon, a freelance writer and sister of the actor Jimmy Fallon. The siblings have been close with Ms. Schelter for about five years. "All her invites would say, 'Dress, colon, up.' That was it. She kills me!"