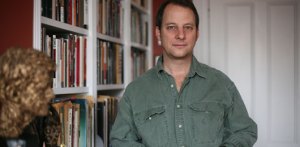 "It was the most shaming experience of my life, talking to these people," said New Yorker writer George Packer the other morning, sitting on an antique sofa in the living room of the Prospect Heights townhouse he shares with his wife, writer Laura Secor, and their 4-month-old son, Charlie. Mr. Packer, who is 47, was referring to Iraqi employees of the American government, newspapers and NGOs who had found themselves, by the time he visited Baghdad in January 2007, caught in an increasingly dangerous trap: Shunned and shamed by other Iraqis for being "collaborators," they were finding that the American government offered no refuge. "It had been swept under the rug as a bureaucratic and PR problem that was ignored. One embassy worker found a severed dog head with a note attached in his yard, and his supervisor offered him one month paid leave—nothing else. They've become total pariahs in Iraq."
Mr. Packer's trip last January was the sixth time he had traveled to Iraq for The New Yorker since July 2003, and it was the first to focus exclusively on the urgent problem of this small group of Iraqis. In March, his article "Betrayed: The Iraqis Who Trusted America the Most" was published in the magazine and immediately became something of a sensation; soon afterward, he met with the Culture Project, the downtown, politically minded theater company, to discuss turning it into a play. (Mr. Packer's New Yorker colleague Lawrence Wright had great success at the Culture Project last year with his one-man show, My Trip to Al-Qaeda.) Now, less than a year later, Betrayed will open on Feb. 6, with previews beginning Friday; the show runs at the Culture Project through March 16, and an early version of the script has been published by Farrar, Straus & Giroux.
"When I first met George, I thought, 'This is his first play and it's a really good play,'" said director Pippin Parker last Thursday, on a break from rehearsal in a studio space across from the Public Theater on Lafayette Street. In the mid-1980's, Mr. Parker co-founded the Naked Angels Theater Company (perhaps best known to nontheater people for being the place where Matthew Broderick met Sarah Jessica Parker, who is Mr. Parker's younger sister), and he currently chairs the graduate playwriting department at the New School. "I had read the article, and from the beginning you realize you're in a situation with people. That's been our guide. George wasn't saying, 'This is a moral and national shame.' He was saying, 'Here are these people, look at their lives—what they believe in is what we told them to believe in.'"
The play centers on the stories of two Iraqis—one Shiite, one Sunni—named Adnan (Waleed F. Zuaiter) and Laith (Sevan Greene), friends who work in the U.S. Embassy in the Green Zone in Baghdad. (The characters are conflations of several Iraqis Mr. Packer wrote about in "Betrayed" and other articles, most of which were published in some form in his 2005 book, The Assassins' Gate.) They confront obstacle upon obstacle as they attempt to go about their work, and finally find a sympathetic ear in a low-level embassy employee named Prescott, played by Michael Doyle. At the beginning of the play, Prescott seems like a typical bureaucrat: When his employees try to tell him what conditions are like for them, he retreats into the comfort of poll numbers that, he assures the Iraqis, show how Iraqis really feel. His naïveté is at once breathtaking and heartbreaking, yet as his character slowly begins to understand the position the Iraqis are in, he too encounters bureaucratic obstacles from higher-ups.
"The inherent trap is thinking that things are black and white," said Mr. Parker. "People in a war-torn country don't see things in black and white, so we're navigating the middle ground. It's not a 'political' play. It's political in the largest sense but it doesn't rest on politics for its drama."
At last Thursday's rehearsal, Mr. Parker had his actors run a scene in which Prescott confronts his superior about getting badges with better clearance for his Iraqi employees. Mr. Doyle stopped the scene, asking for more direction from Mr. Parker.
"[The embassy employees] never say no," Mr. Parker said. "They always want to throw it to someone else."
"THE U.S. EMBASSY was the worst experience," said Mr. Packer, recalling his visit there during research for "Betrayed." Mr. Packer wore a light green shirt, the top two buttons undone, jeans and black boots. His house is decorated in a global intellectual chic style, with art from around the world, simple yet expensive-looking wood furniture and lots of books in built-in bookshelves. "I passed through endless security doors and checks—it was like Get Smart, with doors that open and close behind you—and I finally arrived in the inner sanctum. There was no air, there was no light and there were no Iraqis. The Americans were working in a hermetically sealed environment." In the play, Mr. Packer implies strongly that the Americans in Iraq have a willful ignorance of Iraqi politics and culture, preferring instead to remain in their all-American safe zones.