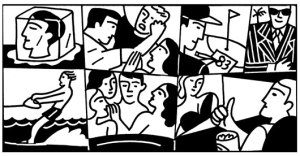 Continue to irritate and infuriate people as the years go by but figure out how to take it to the next level: Consciousness raising.
Get my head frozen right before I expire.
Spend a good seven hours with Madonna.
Once and for all, learn how to water-ski and hang-glide.
Stop taking Addies and Klonnies and get that morning wood back on a regular basis.
Get into a fight for a good reason—defending someone's honor, stopping a crime in progress, anything that results in applause.
Compose a late-60's progressive rock classic song with a lot of "ahhh's" in the chorus and live off the royalties.
Have sex with three women in a 24-hour period.
Play a round of golf in the low-to-mid-80's without cheating.
Get hired in Hollywood as a guy who has such good taste that all he does is watch scenes in soon-to-be released movies—then gives the thumbs up or thumbs down. If they get the latter, they will have to be reshot, or the movie might have to be shelved or destroyed. Among my employers will be such giants as Oliver Stone, Woody Allen and the Coen brothers.
Turn the 67th Street Armory into my personal water park.
Track down that fat liar who sold me the counterfeit ticket to the Super Furry Animals show at the Music Hall in Williamsburg on the 25th of January. Let him know that I still managed to see the show despite his trickery because a nice, nose-ringed girl named Sarah had a plus one. Got a miracle ticket, ya hear me?
Travel throughout the Middle East without running into any raging fanatical lunatics.
On my 60th birthday, begin to cultivate a twice-a-month heroin habit. Have a personal assistant always present, a licensed doctor in the vicinity, maybe an ambulance outside.
Drive from East Hampton to Southampton in my boxers screaming "Whooo!" and "Yeah!" after pre-midnight sex.
Find a benefactor—but keep it secret and have everyone wonder how all of a sudden I can afford the chalk striped suits and the $7.5 million pied-à-terre in the West Village.
Become Cultural Czar who has the power to ban stuff for as long as I'm alive. Like movies by Kevin Smith and the game of poker. Poker brings out the worst in people. Antihuman. Idea of sitting around a table for hours with a buncha dudes trying to trick each other—yeccch. Yahtzee!'s more civilized and sophisticated.
Get a message to the Super Furry Animals that live psychedelic music needs to be played faster. Maybe it was the beer and whiskey, but I was about to jump onstage and make this point or slug someone.
Don't climb Everest. It's a big, dumb, pointless, selfish ego trip. You've accomplished nothing and no one wants to hear all about it.
Spend a week at the Mayo Clinic doing all kinds of tests, get a clean bill of health, pay the $75,000, then do a week at the Bunny Ranch.
Become fluent in 50 words of Italian and use them all the next time I'm there.
Become baseball commissioner. Rookies and sucky players get $150,000 and the stars get no more than $550,000. Save your money or invest wisely because that's all you get.
Really crack down on Scientology.
Be nice to my girlfriend 98 percent of the time. Women like it when you're cruel 2 percent of the time.
Infiltrate some kind of ocean cult in San Francisco, become its leader, get sick of it, expose it.
Win a nationally televised debate on religion, leaving Dinesh D'Souza and Christopher Hitchens sputtering.
Once a month spend an afternoon with the comedian of my choice. They work around my schedule.