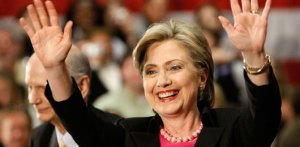 THIRTY WAYS OF LOOKING AT HILLARY: REFLECTIONS BY WOMEN WRITERS
Edited by Susan Morrison
HarperCollins, 254 pages, $ 23.95
Let's imagine this book's concept—30 well-known women writers talk about how they "feel" about Hillary Clinton—applied to 30 male writers and a male presidential candidate. Adjusting for gender, the essay titles would now read: "Barack's Underpants," "Elect Brother Frigidaire," "Mephistopheles for President," "The Road to Codpiece-Gate," and so on. Inside, we would find ruminations on the male candidate's doggy looks and flabby pectorals; musings on such "revealing" traits as the candidate's lack of interest in backyard grilling, industrial arts and pets; and mocking remarks about his lack of popularity with the cool boys on the playground (i.e., the writers and their "friends"). We would hear a great deal of speculation about whether the candidate was really manly or just "faking it." We would hear a great deal about how the candidate made them feel about themselves as men and whether they could see their manhood reflected in the politician's testosterone displays. … And we would hear virtually nothing about the candidate's stand on political issues.
Susan Morrison, the editor of Thirty Ways of Looking at Hillary (who's also the articles editor of The New Yorker, and former editor in chief of this newspaper), defends the absence of political analysis in the book thusly: "There's plenty of Hillary Studies literature out there that parses the candidate's stands on policy issues, her Senate votes, and her track record as first lady. This book isn't aiming at that kind of op-ed territory. Rather, it's an attempt to look at the ways in which women think about Hillary (and why they think so much about Hillary), how they make their judgments about her, which buttons she pushes in them and why."
Actually, the op-ed territory is awash with exactly the same sort of trivializing dissection. Hillary Studies pundits are obsessed with the candidate's hairdos, outfits, cookie-baking comments, supposedly "cold" personality and even, most recently, her failure to apply "The Rules" style of dating in her politics. The ratio of trenchant political commentary to personal pot-shotting on the subject of Hillary Clinton in the larger media realm is precisely echoed in the pages of this book, which seems intended to reprise the op-ed fixations, not to bury them. The result is a good deal of convenient psychologizing, self-absorbed meanderings and unearned snipes—and a handful of efforts to take a respectable step back from how-do-I-personally-feel-about-Hillary thumb-suckery.
MANY OF THE writers in Thirty Ways are busy reviewing their own lives and taking their own temperatures, some with notable self-regard. Others are preoccupied with such pressing questions as, is Hillary a dog or cat person? Does she like olive burgers or Boca burgers? If she did have a hobby, what would it be?
Thanks to its more insightful contributors, Thirty Ways does provide grist for thought. Among those writers who thankfully manage not to dwell on themselves are Katha Pollitt, who considers what the torrent of sexualized epithets about Hillary Clinton suggests about male hysteria; Deborah Tannen, who draws on actual interviews she conducted with actual women to diagnose the double bind that all female professionals face; and Leslie Bennetts, who argues that Clinton's many self-appointed psychoanalysts have woefully "missed the point" by asking all the wrong questions: "The real problem is our own schizoid relationship with female gender roles—and the fact that we don't even recognize the true nature of what's bothering us."
Nor does the first-person perspective that prevails in this book always dead-end in easy self-congratulation. Jane Kramer turns her fixation on Hillary back on herself for a moment of self-examination. ("None of this answers the question of why I continue to subject Hillary Rodham Clinton to the kind of scrutiny I would never think to apply to men," she writes. "In matters of sweet and steely, I also disappoint myself. Maybe I have not evolved.") Amy Wilentz uses her own experience as a springboard to empathy. ("What if you had to operate in a universe where you were never allowed to say what you really felt?… Could you, as I often do, miss three consecutive appointments to get your hair cut? And really: what if you had to wear pantsuits or a turquoise jacket with a turquoise necklace and turquoise earrings?")
THE VERY PREMISE of Thirty Ways invites us to disparage Hillary Clinton as a political candidate and induct her instead into a reality show pageant. More often than not, the contributors take the bait, passing judgment on Clinton's femininity ("unnatural" and "contrived"), looks ("passably attractive") and sensuality ("it is difficult for me to imagine her in an embrace, motherly or otherwise," Susanna Moore writes). Reading through these pages, I wished for a companion volume, Thirty Ways of Looking at Women Looking at Hillary, which answered this question: Why do so many of these women writers—who have shown themselves to be graceful essayists and well-reasoned analysts in other contexts—resort to unfactual and illogical thinking and, in many cases, downright 13-year-old cattiness when the topic is Hillary?