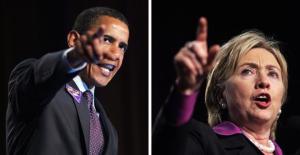 Supporters of Hillary Clinton reaffirmed in a conference call just now that they are outraged by Barack Obama's positive remarks about Ronald Reagan as a trajectory-changer in American politics.
"I was stupefied by the comments," said Representative Barney Frank of Massachusetts. He added, "It's baffling to me that Senator Obama would speak so favorably of him."
The best line of the call though came from an angry Representative Corrine Brown of Florida.
"Every time I see a homeless person I think about Ronald Reagan," she said, before adding, "It is very important that young people know about the history."
UPDATE: The Clinton campaign e-mails to say that their supporters on the call were also taking exception to Obama's remarks to the Reno Gazette-Journal's editorial board, in which he said "I think it's fair to say that the Republicans were the party of ideas for a pretty long chunk of time there over the last 10-15 years in the sense that they were challenging conventional wisdom."
To be fair, Obama did put this in the context of the Republican approach having "played itself out."