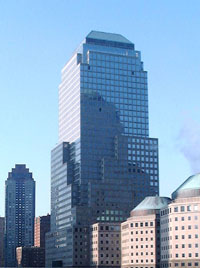 Downtown advocates must have cheered last week when The Wall Street Journal reported that financial giant Merrill Lynch was likely to sign a five-year lease renewal for its headquarters at Brookfield Properties' World Financial Center, seemingly killing a once imminent plan to build a new headquarters in midtown.
But looking a few more years out, the lease renewal seems to decrease the likelihood that Merrill will stay downtown. If the bank wants a large new office tower, the options downtown will be far more limited than in midtown, real estate professionals say, by the time Merrill's lease ends in 2018 (the five-year renewal was on a lease ending in 2013).
For months, Merrill had been weighing three options: a move to Larry Silverstein's planned Tower 3 at the World Trade Center; building a new midtown skyscraper on Vornado Realty Trust's Hotel Pennsylvania site; or staying at Brookfield Properties' World Financial Center with expanded trading floors.
But wait five years and the open door at the World Trade Center all but closes, as Tower 3 will go up without the large trading floors that would have been built for Merrill, and real estate sources say a move to Tower 2 is unlikely.
Large development plots are not easy to come by in Lower Manhattan even now—Goldman Sachs snatched up one of the last big sites in Battery Park City when it agreed in 2005 to build its new headquarters. And the far West Side in 2018 could be far more attractive to Merrill, as heavy commercial development there will be either done or under way.
Of course, 2018 is quite some time from 2008, and one would assume the calls to boost downtown commercially will have dissipated. Six new towers in and around Ground Zero will likely be done, after all, and filled.