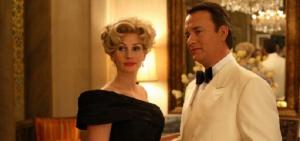 "We do have an asset that most people don't have: the power and glamour of entertainment and film," Motion Picture Association of America Chief Executive Dan Glickman told the Los Angeles Times. "We might as well use it." Mr. Glickman was discussing an exclusive movie theater, located within blocks of the White House, which offers free movie screenings to big names in government, politics and journalism. "The screenings are a long-standing lobbying tool, refined to deal with new congressional ethics rules, that help Hollywood stay on the A-list of influential industries in the nation's capital," according to the LA Times' Jim Puzzanghera.
Before a recent screening of "Charlie Wilson's War" for the Washington press corps, for example, CNN's Wolf Blitzer greeted CBS' Bob Schieffer. "Fox News Sunday" host Chris Wallace stood near the shiny new black granite bar in the MPAA lobby. Even the glasses of wine at the open bar had a Hollywood connection — the Chardonnay and Cabernet Sauvignon came from director Francis Ford Coppola's Napa Valley winery.Under the frozen gazes of Fred Astaire, Ginger Rogers and other Hollywood legends, Glickman served up handshakes as waitresses offered shrimp spring rolls with sweet chile sauce and triangles of quesadillas filled with Camembert cheese, mango and red onion. Soon everyone moved to the dining room for a buffet featuring roasted beef tenderloins and grilled salmon fillets.
Enjoying some free food and drink before getting an early peek at a major motion picture, these Washington insiders are Hollywood's dates for a night. Those relationships can pay off when the major movie studios need a favor.