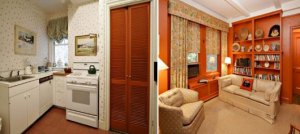 When Stephen Drucker is asked about his new apartment's ceiling height or upcoming kitchen renovation, he'll respond with the euphoric glee that you'd expect from the man that created The Times' Sunday Styles section, spent years as editor in chief at Martha Stewart Living Omnimedia, and now edits House Beautiful, the country's oldest continuously published shelter magazine.
According to city records, he and Frank Newbold closed this month on a two-bedroom co-op at 125 East 74th Street for $1.45 million. Just after landing from Paris, he told The Observer that he's already hired a kitchen designer named Christopher Peacock for his "classic English-stock cabinetry."
"I need to throw a grenade into this kitchen," he sighed.
And Mr. Newbold, a major broker for Sotheby's East Hampton office (he's sold to Ms. Stewart), has a say in the design, too. "Actually, we're very comfortable with each other's taste, we're both Anglophiles," Mr. Drucker said. "You would swear you were in Kensington sitting in this apartment."
In fact, he first saw the co-op as a board member of the foundation that celebrates British architect Sir John Soane. "I went to meetings there, and the first time I ever walked into this apartment, I said, 'This is the only apartment I would leave my apartment for; it's absolutely unique.' Three years later I answered an ad in the paper, walked in the door and said, 'Oh my God, it's that apartment. I've been here before!'"
But Mr. Drucker would never leave the Upper East Side. "Why do I love it? It's so civilized, it's so quiet," he said. "It feels like Europe. Pretty people doing pretty things, that's the Upper East Side."
According to the deed, the seller is Margery Boochever Perlo, who died last year at age 93. A listing puts her apartment's size at 1,000 square feet, but Mr. Drucker thinks it's slightly bigger. "Some people are obsessed with square footage! It's really all about volume. [Volume takes high ceilings into account; square footage is just room width and length.] It's the difference between an apartment feeling elegant and an apartment feeling pinched."
Even though this is his first two-bedroom co-op, he's turning the extra room into a dining area/library. "Because," he said, "who needs a dining room these days?"