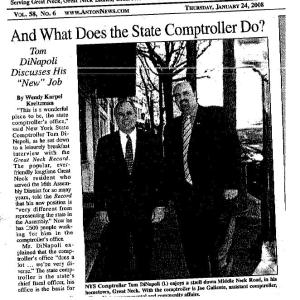 Tom DiNapoli, the Long Island Assemblyman who was installed as state comptroller last year did "a leisurely breakfast interview" with the Great Neck Record that's out today.
The article doesn't reveal much that we don't already know, but a hint of one of Eliot Spitzer's first political battles caught my eye. From the profile:
One of the friendliest, most responsive "neighbors" around, he ended the interview asking the Record to "please remember to tell Great Neck how much I appreciate their support…it really made a difference…helped to keep my confidence level up…"
His appointment about a year ago, of course, was only the beginning of what came next for the governor and his allies.