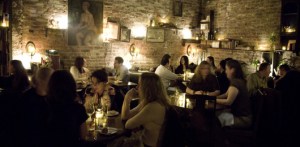 "Bring me a cup of Ovaltine," Jackie Gleason once told a waiter. "I want to be asleep when the bill comes."
Tell me about it. The cost of eating out rose dramatically in 2007. Food prices went up faster than at any point in the past 15 years, according to Food Arts magazine, partly due to the high demand for ethanol, which raised the price of corn used to feed livestock and poultry.
Add to this the scandalous markups on wine. Beware of those wines offered at an all-inclusive price on tasting menus, and of ordering by the glass—an equally profitable markup, especially when you are served little more than a thimbleful.
One small way to keep down the tab (and feel you are doing your bit for the environment) is, of course, to drink tap water instead of bottled. This trick is particularly effective in England: On a recent visit there I learned that Claridge's had just launched a special water-tasting menu, offering their customers a choice of more than 30 varieties from around the world. One of them, 420 Volcanic, from underground volcanic springs in New Zealand, cost the equivalent of $45 for a 42cl bottle—less than a pint.
So I was amused to read the results last week of a blind tasting of 24 waters, held by Decanter magazine and testing some of the most experienced palates in Great Britain. London tap water came in third—higher than most of the expensive bottles. The top scorer was Waiwera, another New Zealand export, which sells for a hefty $18 a liter at Claridge's, followed by Vittel, which retails for just under $1 a liter in a supermarket. 420 Volcanic limped in at 18th place. A California water, Bling H2O, at $80 a liter, placed 22nd out of 24. Its bottle is encrusted with Swarovski gems.
Meanwhile, the word of the year in the new Oxford English Dictionary was "locavore," defined as "someone who only eats locally grown food." Chefs increasingly supported farmers' markets and foraged for local produce, and their menus went even further, providing their customers with the details of the origin of their ingredients. That's all well and good, but do we really need to know the name of the bull who sired the beef on our plate?
ALL THIS ASIDE, some terrific new restaurants opened in New York in 2007. Here's my list of favorites, in no particular order.
Park Avenue Summer/Autumn/Winter/Spring sounded like a gimmick, a restaurant that not only changes the menu with each of the four seasons, but its entire appearance. Yet chef Craig Koketsu's food is inspired, especially Summer's seafood and corn dishes.
Two new excellent sushi restaurants opened in Greenwich Village. Soto, a small, elegant outpost, on Sixth Avenue near Washington Place, serves first-class sushi (including petals of live fluke sprinkled with sea salt, lime and yuzu zest). 15 East, in the space that used to be Tocqueville, now serves superior sushi and sashimi in a comfortable, sleek dining room. (Tocqueville has moved down the block.)
The Theater District got a boost with Insieme, an Italian restaurant from the team that created Hearth. Marco Canora's fine menu is divided into two parts, classic dishes on one side and his modern interpretation of Italian cuisine on the other. Paul Grieco's comprehensive Italian wine list is splendid, and filled with witty descriptions (the Savagnin Arbois is to traditional Gewürztraminer "as Christina Aguilera is to Britney Spears … it is just dirty and funky and super sexy!").
Meanwhile, some notable chefs moved around. Michael White left Fiamma and took over the kitchens at Alto and L'Impero, to great success. He is American; his food is hearty Italian. Meanwhile, Fabio Trabocchi, who is Italian, took over Fiamma, where his food hardly seems Italian at all, but is also exceptional.
Allen & Delancey on the Lower East Side is the year's most romantic new restaurant, with its bare brick walls, cozy booths and a plethora of candles. Neil Ferguson, after being told to chef off by Gordon Ramsay at the London, has reappeared with seriously good cooking. The caramelized bone marrow is a revelation.