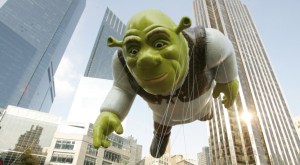 Shrek is ditching the magic kingdom and coming to Broadway. Although, don't expect Cameron Diaz and Mike Myers to come out of their recording booths to prance around on stage any time soon. Shrek The Musical will premiere in Seattle in August this summer and then transfer to New York (at a theater to be announced) in early November. Spamalot helmer Tim Hatley will direct.
Read on for full press release.
SHREK
THE MUSICAL
Broadway Performances Begin in Early November
ONCE upon a time in a land not so far, far away a new musical began its journey to Broadway.
DreamWorks Theatricals and Neal Street Productions, Ltd. have announced that SHREK THE MUSICAL will play an exclusive world premiere engagement at The 5th Avenue Theatre in Seattle, August 14th to September 21st, prior to opening on Broadway in the Fall of 2008. Preview performances will begin in early November at a theater to be announced.
SHREK THE MUSICAL is an entirely new musical based on the story and characters from William Steig's book Shrek!, as well as the DreamWorks Animation film Shrek, the first chapter of the Shrek movie series.
SHREK THE MUSICAL features a book and lyrics by Pulitzer Prize® winner, David Lindsay-Abaire (Rabbit Hole), music by Jeanine Tesori (Olivier Award-winner for Caroline, or Change and three-time Tony Award® nominee), and is directed by Jason Moore, who staged the Tony Award®-winning Best Musical, Avenue Q.
SHREK THE MUSICAL is DreamWorks Animation's first venture in legitimate theater. The production was initiated by Jeffrey Katzenberg, Chief Executive Officer of DreamWorks Animation, and Sam Mendes, who has a long-term relationship with DreamWorks. Mendes, a big fan of the first Shrek film, suggested the idea of creating a musical to DreamWorks' Jeffrey Katzenberg around the time the second film was in production. The musical is being produced by DreamWorks Theatricals (Bill Damaschke, President) and Neal Street Productions, Ltd (principals Sam Mendes and Caro Newling).
Other members of the SHREK THE MUSICAL creative team include Tony Award®-winning set and costume designer, Tim Hatley (Monty Python's Spamalot, Private Lives, among others) and three-time Olivier Award-winning lighting designer, Hugh Vanstone, whose Broadway credits include Monty Python's Spamalot, Bombay Dreams, The Blue Room and Art.
The choreography is by newcomer Josh Prince, and Tim Weil (Rent) is serving as music director.
Casting and additional members of the creative team will be announced shortly.
SHREK THE MUSICAL is based on a popular 1990 book by William Steig. The characters of Shrek, Donkey and Fiona, and the other inhabitants of "Far, Far Away," have been featured in three major animated films and a popular television special to date. The first Shrek feature film hit theaters in the summer of 2001, and went on to win the first-ever Academy Award® for Best Animated Feature. The 2004 sequel, Shrek 2, remains the third highest grossing movie of all time and highest grossing animated film of all time. The latest chapter of the Shrek story, Shrek the Third, is the 2nd highest grossing film of 2007. Shrek the Halls, the recent ABC television special, was one of the most watched TV programs of 2007.