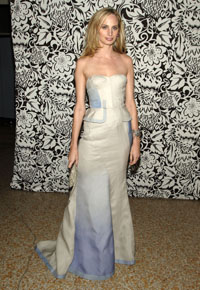 "It was an experience of a lifetime. I'm never seen a more beautiful bride," said Valentino publicist Annelise Peterson of Vogue contributing editor Lauren Davis' Cartagena, Colombia, wedding on Tuesday, Jan. 8, to Colombian billionaire heir Andres Santo Domingo. "It definitely looked like nine years in the making," she said, referring to the length of the couple's courtship.
"It was people from all different groups from the Upper East Side preppy group," chirped another socialite. "You know, Topper [Mortimer] and his Dorrian's friends, to fashion industry people. And then there was more of a jet-set group."
The nine bridesmaids included socialites Fabiola Beracasa and Tinsley Mortimer. Notable guests included designer daughter Margarita Missoni; Camilla Al-Fayed, daughter of Harrods owner Mohammed Al-Fayed; socialite Fiona Scarry; presidential daughter Barbara Bush; model Karolina Kurkova; designers Tara Subkoff and Lazaro Hernandez; and flamboyant Vogue editor Hamish Bowles. "Hamish was so much fun, he was the life of the party," recalled the source. "He was just dancing up a storm."
The three-day extravaganza included a ceremony at a church called (appropriately enough) Iglesia Santo Domingo, with wooden fans distributed along with the programs to battle the humidity, followed by several receptions at the Santo Domingo family compound, an after-party at a neighbor's mansion, a party at the Hotels Santa Clara and Santa Teresa, and another at a nearby salsa club. Olé!
"There were mojitos and champagne everywhere you turned," said one hung-over male attendee. "[Photographer] Arthur Elgort shot the whole thing. There were lots of costume changes at every different turn. Girls were obviously aware that Vogue was covering it."
Ms. Davis's flowing white gown was designed by Olivier Theyskens for the house of Nina Ricci, and featured an extravagantly long train. "Olivier told me that he cut the wedding dress with scissors to make it short for the after-party," said the male source with some incredulity.
If there was a cake, no one noticed it. There were speeches, which were hard to hear. Mr. Mortimer made one. "He said something about how their dog Georgie was like their kid. And that they look alike, that they're both tall and skinny," said the boy about town. Awww! Around 3 a.m., waiters began passing around empanadas.
"I guess it about as wild as you would expect of a Colombian wedding," said Ms. Peterson, who had never visited the country before. "The people were so friendly. You didn't even notice that there were guards walking around with machine guns."