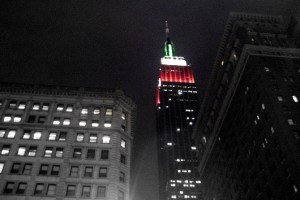 Time to ready the oxygen tanks: Commercial brokers are planning to race up 86 floors of the Empire State Building.
Come Feb. 5, an Empire State Building spokeswoman tells us that the city's biggest brokerages will square off with each other as part of the building's annual "Run-Up," with Jones Lang LaSalle, Cushman & Wakefield, CB Richard Ellis, Studley and Newmark Knight Frank each planning to send at least one team of five runners (team names include the "Sub-Primers" and "Victoria's Secret").
The gun goes off for the brokers at 9:15, a separate heat from the main race, for which about 100 or so runners are invited.
New York Road Runners started the race in 1978; participants run up some 1,567 stairs. Course record: 9 minutes and 33 seconds, set by Paul Crake in 2003. This is the first year the brokers are facing off.