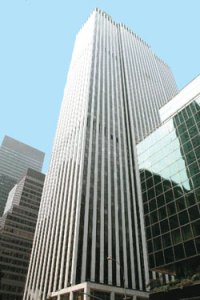 Harry Macklowe, the owner of Macklowe Properties who made a mammoth $7 billion property buy earlier this year, has shown his first major sign of buckling in the face of substantial debt troubles, bringing on the real estate firm CB Richard Ellis to market the prized GM Buidling at 767 Fifth Avenue. The news was first reported in The Wall Street Journal online this afternoon.
The GM Building, with its soaring white columns, is easily one of the most valuable buildings in the city. Mr. Macklowe paid $1.4 billion for the site in 2003, and it would surely go for twice that given the sky-high rents Mr. Macklowe is able to wrest from tenants. In an April article, an investment sales broker at Cushman & Wakefield told The Observer the building was worth "$4 billion-plus," though things have slowed a bit since.
The predicament of Mr. Macklowe, watched closely throughout the industry, has become a high-profile symbol of the cooling real estate market. When the veteran landlord agreed in February to pay the $7 billion for Equity Office's New York portfolio, the sum was impressive to be sure, but not one considered to be overwhelming at the time, given the soaring market. But with the collapse of the subprime mortgage market in the summer, the lending market dried up, leaving Mr. Macklowe, who used $50 million of his own money on the deal, with billions in short-term debt that no longer could easily be repaid.
As for potential GM Building bidders, one name that comes to mind is Sheldon Solow, the 79-year-old developer who bid on the site when Mr. Macklowe won it in 2003 and who has a lawsuit out claiming he is the rightful owner.