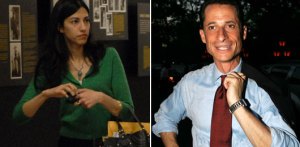 Speculation that Washington's two most eligible singles—Hillary Rodham Clinton's fashionable traveling aide Huma Abedin and New York's dashing bachelor Congressman Anthony Weiner—are dating has become "common knowledge" among the campaign press corp, according to a reporter on the trail.
Reached for comment by the Transom, Mr. Weiner, who has reportedly stepped out with television hostess Alli Joseph and ABC correspondent Gigi Stone, opted not to deny the rumors. "I've got nothing for you on this, buddy," he said.
But is it true? "Is this the world you live in?" Mr. Weiner asked with faint disgust. "I've got nothing for you on this story." (A Clinton spokesperson, Philippe Reines, also chose not to deny.)
Many campaign onlookers, including those tipping off Page Six, have noted that Ms. Abedin, 32, and Mr. Weiner, 44—who have been glimpsed together on the campaign trail on more than one occasion—made no attempts to put distance between each other on Thursday, Jan. 24, as they arrived at a boozy fund-raiser for Mrs. Clinton held at the Maritime Hotel on West 16th Street.
"Oh, yeah, it's definite," said our spy.
"We don't comment on the personal lives of staff," said a spokesperson for the comely Ms. Abedin, recently named one of Vogue's best-dressed of 2007.