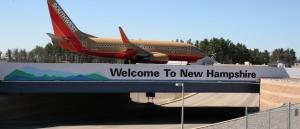 NASHUA, N.H.—The rushed primary schedule gives reporters only five days in New Hampshire, with virtually no sleep since they finished up in Iowa late last night. This morning in New Hampshire, they were feeling it.
Fernando Suarez, the 28-year-old beat reporter for CBS News, was punching furiously at his laptop trying to find a new hotel while waiting for Hillary Clinton to show up at an 8 a.m. event here.
He' s staying at a Radisson in Nashua, about a 20-minute trip from Manchester, the capital for all New Hampshire reporting where her campaign bus departs from. It's a little farther than he would have liked, but with price tags at more than $350 a night and the entire world descending here this morning, the options to get any closer were few.
"Sadly, we don't have anytime to do this," he said.
Even with a new hotel room it wouldn't make much of a difference. "I generally don't even find a time to read or put on the TV to watch anything. I just sit there and think about what else I should be reading and what else I'm missing."
He's been covering politics for CBS News for six years, and he's been covering Hillary for the last three months. All the beat reporters here were pretty sleepy after taking a sad Charter flight between Iowa and New Hampshire that arrived here after 4 in the morning.
But if she's not stopping to sleep between Iowa and New Hampshire, neither can they.
"That keeps me moving," Suarez said. "It's like, 'uh, you're 60.'"