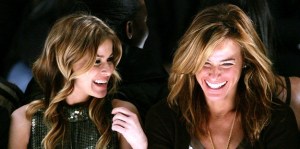 Open-access Facebook profiles are totally hot—primarily because they can be viewed without going through the whole 'friending' rigmarole. In fact, one needn't even 'poke' them! And that's sweet, because 'poking' is completely out of the question.
So we decided to celebrate those peeps who have the gumption to announce their, say, religious beliefs to the whole world. And what better way to kick things off than with a profile breakdown of one of our all-time fave New York socials—Kelly Killoren Bensimon!
First, some background info: Ms. Bensimon, founding editor of Elle Accessories, became Ms. Bensimon when she married Gilles Bensimon, the celebrated fashion photographer, whose work for Elle put him at the forefront of the industry. (The 63-year-old shutterbug, also the onetime creative director of the glossy, has appeared a couple times on America's Next Top Model.) The high-profile couple, who have two children together, split in 2006.
Now, on to the nitty-gritty…Ms. Bensimon, a Taurus who had a column in Page Six Magazine for a spit, is apparently "In a Relationship," also billing herself as both a conservative and Catholic. Holy moley! She lists only one, rather curious activity—"riding all day long"—though her list of interests is suitably varied: "my kidlets / my horse / cars / watersking / jack russells / whatever peeks my interest." [Oh, and 'sic' on all accounts here.]
Her favorite music includes James Taylor and "all r&b." For when the stereo's off, the iPod tucked away, Ms. Bensimon writes of her appreciation for T.V. shows like Tom & Jerry and House. She likes the films It's a Wonderful Life and White Chicks (but, then again, don't we all?). Only one book: Garden of Eden by Ernest Hemingway. Ditto her favorite quote, which is fancy: "dans l'adversite fasions face." See, fancy! No academic slouch, she received a B.A. in English Literature and Creative Writing from Columbia University.
It also appears that Ms. Bensimon is a fan of those new Facebook applications. Indeed, she's collected some 23 of them, which include the ubiquitous "Cities I've Visited" and the slightly more obscure "Snowball Fight!" Ms. Bensimon is in 10 groups—"Balenciaga," "Milk Studios" and "PRWeek Networkers," among them. Though no socialite fan club groups could be found, she does have some pretty hot-to-trot Facebook friends: society scribe Peter Davis; socials Fabian Basabe and Vanessa Von Bismarck; Vogue contributing editor Lauren Davis; and Times style guru Horacio Silva.