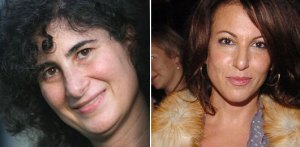 "I would say that both of us can do pretty much anything."
Cindy Spiegel was on the top floor of the Random House building at 56th and Broadway sitting at a conference table next to Julie Grau, her friend and longtime partner in the book business. Both were dressed in black: Ms. Spiegel, 47, in some kind of charming, puffy skirt, and Ms. Grau, 44, in leather boots and a sleek, low-cut dress. They were discussing what kinds of books they are good at publishing, and what kinds of books they'll be looking for as they continue furiously acquiring titles for Spiegel & Grau, the publishing company the two of them started two and a half years ago as a division of Random House's Doubleday group after abruptly leaving their longtime home at the Penguin Group's Riverhead imprint.
At the end of this month, the imprint will have an official launch party to celebrate its first full list, which includes Lee Siegel's about-to-be-published manifesto on the Internet and a political book by Rolling Stone writer Matt Taibbi.
As Ms. Spiegel and Ms. Grau spoke about their intentions for the company, they explained that they want books that are not merely "good" but "somehow distinctive"—books, that is, that "are saying something different and doing something in some way that hasn't really been done before," as Ms. Spiegel put it.
By all accounts, they have been paying handsomely for their choices. Last month, for instance, Ms. Grau put down more than a million dollars for two books by Mary Johnson, an acolyte of Mother Teresa's who left the church after 20 years and renounced her faith. Before that, Ms. Spiegel paid a reported $5.2 million for two works of fiction by Water for Elephants author Sara Gruen.
Such is the reality of starting from scratch, which is exactly what the self-styled underdogs have had to do since they were prohibited from bringing a single author with them from Riverhead to Doubleday when they moved in 2005. Penguin president Susan Petersen Kennedy, who hired them in 1994 to help start Riverhead and trained them in the ways of the book business over the course of the next 11 years, would not let the authors break their contracts and move with their editors.
Ms. Spiegel and Ms. Grau spoke with visible restraint recently as they discussed the circumstances under which they lost stars like Kite Runner author Khaled Hosseini, Color of Water author James McBride and the rest of the best-selling roster of talent they developed during their years at Riverhead when they decided, amid some rather public acrimony, to leave Ms. Kennedy, run away from home, and strike out on their own.
Sitting at the table in the Random House conference room, they explained their decision to name their new company after themselves.
"It's not about us, it's about the books," Ms. Spiegel said, her eyes round, her features friendly and her curly hair sitting kind of wildly atop her head. "But what we liked a lot about it is that it feels like a publishing tradition."
Ms. Spiegel noted that all the old great houses—Harper & Row, Farrar Straus, Knopf—were named after the men who founded them; for two women to do the same, she said, is thus as much a radical statement as it is a gesture toward the publishing industry's illustrious past.
It is an elegant formulation, to be sure, but several people at the Penguin Group, none of whom would agree to speak for attribution, suggested that the name of the company might have a little more to do with the personal than the political. They suspect that, regardless of the reasons Ms. Spiegel and Ms. Grau might offer for their choice, they actually named their company after themselves because they think they deserve all the credit for the books they publish.
Several people at Penguin said it was widely understood at the house that it was this sense of self-regard that caused problems for Ms. Spiegel and Ms. Grau at Riverhead and ultimately led to their departure.
As the Penguin people tell it—and note that Ms. Kennedy, as well as every Riverhead editor contacted for this story, declined to comment—both Ms. Spiegel and Ms. Grau had enjoyed a tremendous amount of autonomy at Riverhead under Ms. Kennedy. Ms. Spiegel and Ms. Grau distinguished themselves quickly as talented editors with instincts for acquiring hit books, and grew close to Ms. Kennedy as they worked under her. The two of them even served as bridesmaids at Ms. Kennedy's 1998 wedding.
Several people who worked at Penguin during the Spiegel and Grau era said they felt the relationship between the three women was unusually intimate, as Ms. Kennedy trained the two young up-and-comers proactively and doted on them.
Ms. Kennedy, according to Ms. Spiegel and Ms. Grau, gave them more or less free rein to pursue whatever books they wanted. By the time they were named co-editorial directors in 1998, Riverhead all but became their imprint.
"We had the freedom to do whatever we wanted," said Ms. Spiegel.