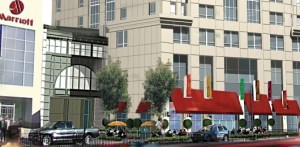 Brooklyn's first Morton's Steakhouse will occupy 14,000 square feet inside the expanded Marriott on Adams Street, according to a deal announced Tuesday.
Read the full release below.
Celebrated National Chain, Morton's, To Open First Brooklyn Restaurant
NEW YORK – The prolific team of Faith Hope Consolo, Chairman, and Joseph A. Aquino, Executive Vice President, along with Arthur Maglio, of Prudential Douglas Elliman's Retail Leasing and Sales Division, represented the landlord in bringing the legendary Morton's Steakhouse to the Brooklyn Renaissance Plaza, a dynamic mixed-use commercial development located at 333-335 Adams Street.
Situated between Tillary and Willoughby Streets, the 14,000-square-foot retail space sits on two levels at the base of a new 24-story, 280-room expansion of the New York Marriott at the Brooklyn Bridge. The newly constructed hotel addition adjoins an existing 32-story tower, which boasts approximately 900,000 square feet of office space, along with 380 hotel rooms, a spacious conference center and a 1,100-car parking garage.
"This is the ideal location for Brooklyn's first Morton's Steakhouse, as the area boasts limitless retail potential," says Ms. Consolo. "This neighborhood – which is filled with high income residents, workers and tourists with plenty of purchasing power – is undergoing a tremendous transformation as a result of the area's residential and commercial construction."
"This first-rate complex is surrounded by the finest corporate neighbors, including Morgan Stanley, Goldman Sachs, Bank of America, KeySpan Energy, Bear Stearns, Bank of New York, Charles Schwab, Chubb, JP Morgan Chase, Empire Insurance and Securities Industry Automation Corp., along with extensive Federal, City and State courts and government offices," adds Mr. Aquino. "There are also eight academic institutions and universities, hospitals, churches and museums, as well as convenient public transportation just steps away."
"This deal also showcases our increased involvement in Brooklyn retail leasing, as we are the exclusive marketing agents for a range of neighborhood properties," continues Ms. Consolo. "As Prudential Douglas Elliman expands its presence across the borough, we are thrilled to be bringing exciting retail to the area."
"Obviously, Morton's will have plenty of patrons eager to sample their extensive menu. This restaurant will enhance the New York Marriott's reputation, and make Downtown Brooklyn an even hotter destination," concludes Ms. Consolo.