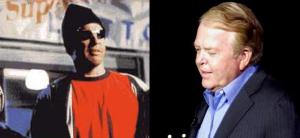 Earlier today, Space.com founder and noted (illegal) alien-phobe Lou Dobbs sat down with Constitutional scholar Floyd Abrams in front of an audience of journalists and immigration advocates as part of Columbia Journalism School's "First Amendment Breakfast Series."
Viewers of Mr. Dobb's CNN show, Lou Dobbs Tonight, would not have been surprised by his populist-tinged tirades against the Chamber of Commerce, the Business Roundtable, Big Media, the National Council of La Raza, and the political leadership of both the Republican and Democratic parties.
But he may have caught some members of the audience by surprise when he passionately argued against the celebration of Columbus Day.
"Columbus wasn't even the one who got here first, it should be Norwegian Day," said Mr. Dobbs.
In an act of even greater provocation, Mr. Dobbs – whose wife is Mexican-American – announced his support for increasing interracial marriage, "at a huge velocity," so as to remedy the fact that Americans are "focusing too much on our differences." (Paging Senator Bulworth!)
In actual news, he is "not interested in being a Presidential candidate," he told Mr. Abrams. Electoral politics are, he said, "not in my nature."
But then! "I am only a candidate of last resort."