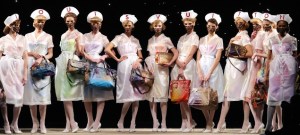 The recent Louis Vuitton party celebrating the final day of Richard Prince's exhibition at the Guggenheim was, by all accounts, well-attended. Arguably, one of the main draws was the opportunity to pre-order those spring collection bags Mr. Prince designed with the French impedimenta-maker. Denise Rich, Helen Schifter and Lizzie Tisch were reportedly among the guests lining up to nab ones of their own.
Some guests apparently did find the whole thing a little odd, according to Fashion Week Daily. Artist Todd Eberle, for one, said: "A Louis Vuitton promotion at the Guggenheim? It's the end of the world!"
The evening proved to herald nothing of an apocalypse. Instead, Ms. Rich just pretended it did, tackling the opportunity to order herself four purses—in particular, she liked the "Monogram Joke" model which is plastered with Mr. Prince's poetic verses printed atop silk-screened monogram canvas. No kidding!
"I know the Carcelles, but Vuitton never does anything less than fabulous. My first special Vuitton was a Murakami bag that I had to get on the wait list for. It was white and I wore it all winter; I didn't care," the rebellious Ms. Rich is quoted as saying at the fête.
Other guests at the Guggenheim included Jennifer Creel, Mario and Anne Grauso, Nina Garcia and Kelly Killoren Bensimon, who had apparently just returned from Turks & Caicos. (As of this posting, Ms. Bensimon had not posted anything of the tropical vacation on her open-access Facebook profile.)