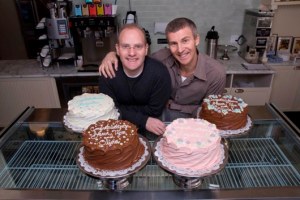 Hallowed cupcake mecca Magnolia Bakery has spawned a second location — three times bigger — on the Upper West Side.
For this week's Observer, out tomorrow, I sat down with Magnolia owner Steve Abrams and brother Danny Abrams, owner of the Mermaid Inn, who similarly opened a second location in the same neighborhood.
According to Steve, the new Magnolia will pay homage to its pre-Sex and the City origins:
When Magnolia first opened, they actually opened as a quiet corner bakery. They did offer breakfast products, muffins and crullers, things like that. But the cupcakes took over. The production could only support a certain amount of goods. And they could no longer do breakfast. But we have all the new recipes that [original owner] Allysa Torey developed. We're going to be using those and opening here for breakfast. We'll be open at 7 in the morning.