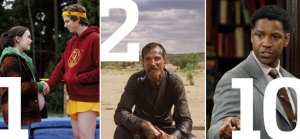 Movies in their fifth week are not supposed to post their best numbers to date, but that is precisely what Juno (No. 1) has done, averaging an astonishing $31,500 on eight screens. (According to Variety, Fox Searchlight is gleefully pointing out that Juno is outperforming Little Miss Sunshine, last year's Academy Award nominee for best picture.) It is clear that this movie about an illegitimate fetus is quickening into a legitimate contender—if only there were an awards show for it to compete in.
Paul Thomas Anderson's There Will Be Blood (No. 2) expanded into five theaters over the weekend and nearly doubled its tally, averaging an impressive $48,000 per theater. And this was before it garnered the best picture nod from the National Society of Film Critics over No Country for Old Men (No. 9). Just for good measure, Mr. Anderson picked up best director. (After working with Adam Sandler, how do you think it felt to direct Daniel Day-Lewis, like driving an Aston Martin after a mint green 1972 Volvo station wagon? Thought so.)
One Missed Call (No. 3), a horror film from Warner Bros. in the Ring vein and the only new wide release of the weekend, just eeked out Charlie Wilson's War (No. 4), a film sinking under the weight of its own baggage, in its third week. (Oh, Cholly!!!) Can anything less than an epic support the combined weight of Tom Hanks, Julia Roberts, Mike Nichols and Aaron Sorkin? Maybe. But now add a dash of Philip Seymour Hoffman! Glub glub! If it'd been Peter Sarsgaard in the lead, Maggie Gyllenhaal or one of her many equivalents in Roberts' shoes, and that guy who directed Maria Full of Grace at the helm, you could keep Seymour Hoffman where he is and have something that'd float.
Next in this middle-of-the-road logjam is Sweeney Todd (No. 5) followed closely by I Am Legend, the most entertaining movie—thanks Will!—that made absolutely no sense of 2007. (By the way, didn't he act the shit out of his role? This was his Cast Away. Where're the "For Your Consideration" ads?) It fell a precipitous 45 percent in its fourth week. With $230 million already in the bank, who cares?
And so much for Manhattan's love affair with Denzel Washington—perhaps American Gangster's success in the city was due more to our love of ourselves? Most definitely! At least, our love of Denzel can't get us to sit through The Great Debaters (No. 10), which currently sits at the bottom of our box office chart. Debate may be war, but it sure isn't profitable.
Notable absences: The Kite Runner (wait for the expansion … any week now), Persepolis (wait for the word-of-mouth), The Bucket List (kicked the bucket, natch), and The Orphanage (wait until it can scare up some business—ha!).
List of theaters: Paris, Zeigfeld, Oprheum, East 85th St., 86th St. East, 84th St., Lincoln Plaza, 62nd and Broadway, Lincoln Square, Magic Johnson, 72nd St East, Cinemas 1, 2 &3rd Ave, 64th and 2nd , Imaginasian, Manhattan Twin, First and 62nd St., Angelika Film Center, Quad, IFC Center, Film Forum, Village East, Village Seven, Cinema Village, Union Square, Essex, Battery Park 11, Sunshine, 34th Street, Empire, E-Walk, Chelsea, 19th Street East, and Kips Bay.
Manhattan Weekend Box Office: How moviegoers in the multiplexes of middle America choose to spend their ten-spot is probably a big deal in Hollywood. But here in Manhattan, the hottest movies aren't always the ones making the big bucks nationwide. Using Nielsen numbers for Manhattan theaters alone and comparing them to the performance of the national weekend box office can tell you a lot about our Blue State sensibilities. Or nothing at all! Each Monday afternoon, we will bring you the results.