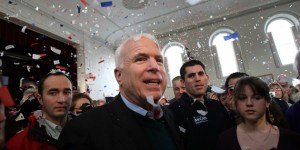 John McCain leads Mitt Romney approximately 37 percent to 28 percent, while Barack Obama and Hillary Clinton are locked in a very close race, according to early New Hampshire primary returns.
Approximately 11 percent of precincts have reported.
UPDATE: CNN is projecting McCain.
UPDATE: McCain has been declared the winner with approximately 12 percent of precincts reporting. Obama and Hillary are still within points of one another.