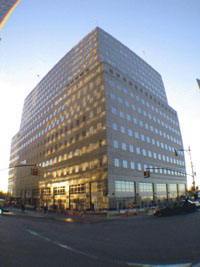 The New York Mercantile Exchange is moving closer to a sale of its headquarters at One North End Avenue in the World Financial Center, as the exchange could be ready to market the downtown building as soon as next month, according to a source.
The possible sale comes as the company considers a merger or an acquisition by another firm, though NYMEX has not yet said who that might be.
The exchange has been considering a sale of its headquarters since at least the summer, a time when the 500,000-square-foot building almost certainly could have brought in more than in today's uncertain market. At the time, the exchange reportedly was seeking a price of between $600 million and $700 million, which, at well over $1,000 per square foot, was a rather gutsy mark for the downtown market but not an impossibility at the time. Now real estate insiders say that anything that high seems improbable, with one source saying the building could fetch less than $400 million.
The investment sales team at Cushman & Wakefield has been brought on to market the building, along with Newmark Knight Frank.