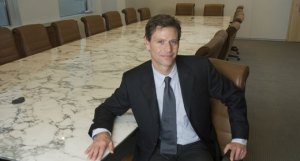 The Wall Street Journal today reports that Merrill Lynch is likely to put off a decision on its headquarters location for at least another five years, as it is seeking a five-year lease renewal with current landlord Brookfield Properties at the World Financial Center downtown.
Such a move comes as good news for Brookfield, and seems to be not so great news for Larry Silverstein, who had hoped to lure the bank into his 175 Greenwich Street tower, a.k.a. 3 World Trade Center. Mr. Silverstein's tower is slated to be completed by 2011—which is a long time before Merrill's new lease would expire in 2018. Of course, Merrill could sublease its space at World Financial if it eventually decided to move to the World Trade Center or anywhere else before 2018, but 2.5 million square feet is a lot to sublease. Had Merrill agreed to move to the tower, Mr. Silverstein was slated to expand the size of the trading floors at Merrill's request, but now he is likely to proceed with the size as currently planned.
Such news also isn't likely being greeted with cheers by Steven Roth, CEO of Vornado Realty Trust, which had hoped to lure Merrill to a new tower on his Hotel Pennsylvania site by Penn Station.
Another thought: With a five-year extension in hand, could Brookfield add Merrill onto its West Side rail yards bid, providing the anchor tenant that the firm has lacked to date? Just asking.