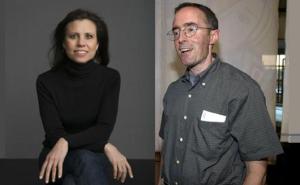 Last week, Michael Kinsley arrived at 4 Times Square for a meeting with Portfolio editor Joanne Lipman and word of the meeting spread quickly through the building: Was he about to become the latest masthead addition to the monthly business magazine?
Not quite yet.
Mr. Kinsley told Media Mob that he was meeting with Ms. Lipman to give her a few pointers with how to run the magazine.
"I had some suggestions," he said. "Their basic problem is: What is the point of a monthly glossy magazine on business in the age of the internet at the beginning of a deep recession? Well, I did some articulating and I don't know if I got it right or not."
Mr. Kinsley said Ms. Lipman had originally reached out to him and he'd said he'd write a memo.
"I was talking to Joanne Lipman—who I'd never met—and she talked to me about writing a piece and I said I'll write you a memo about what I think of the first few issues and what problems you have; I could just be another voice. I'm sure more criticism is just what's she's in the mood for."
There was stuff for them to talk about anyway since Mr. Kinsley is writing a piece for them as a freelance; and while he was there he visited The New Yorker and Conde Nast Traveler where he also has outstanding pieces (but neither of which visits elicited quite the frisson of excitement in the building).
Mr. Kinsley wouldn't discuss his specific prescription for the magazine, but he said Ms. Lipman was a good audience. When asked if he would do anything full-time for Portfolio—one person at the magazine said he might be an "Ideas editor"—he said it was too early to say and that they "spoke vaguely about a consulting relationship."