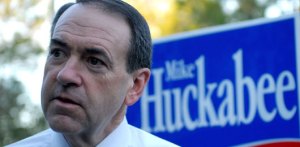 Believe it or not, Mike Huckabee has a New York State campaign. And believe it or not, someone has actually volunteered to run it.
Meet M. Myers Mermel. The "M" stands for Mark, but he goes by Myers, his mother's maiden name. The Myers family, he told me, were poor farmers in Indiana. "They weren't rich, but had a lot of integrity," Mermel said.
He took Myers as his first name because, he says, "When people talk to me, I want them to know who I am."
Mermel was born in Virginia, but he's lived in New York since he graduated from college in 1984. "If you can't make it anywhere else, you can make it in New York," he told me yesterday. "New York is a meritocracy and you can succeed."
Mermel runs a commercial real estate ownership and advisory business. Of late, he's also quite busy with the thankless task of running Huckabee's New York bid.
Mermel, who has never worked on a political campaign in his life (he was a White House intern during George H.W. Bush's presidency, an experience he says taught him "enough about government not to go into it"), now spends much of his time gathering volunteers for the cause. He says there are thousands.
He says that they, and he, are drawn to Huckabee's populism. Reflecting on his candidate's potential appeal to New York, Myers echoes the story that emerged from Huckabee's Iowa victory–a popular uprising of like-minded people who were tired being dictated to by Republican Party leaders. "This comes down to an issue of message versus machine," he told me in an interview last week. Mermel talks a lot about "the message."
The message, it seems, is one of values. And conservatism. And, of course, when it's an ordained South Baptist Minister campaigning, there are some religious overtures.
Mermel doesn't see religion as an obstacle for Huckabee's campaign here. in fact, he says, knowing Huckabee's "dogma" means we already know what Huckabee will do. "The other people, you don't know what you're getting," he told me.. "Why wouldn't you want somebody who has good values," he said. "He has good family values. And that's a negative? How crazy is that?"
He went on.. "I remember the Clinton years," Mermel said. "I couldn't point my children at the T.V."
Huckabee's showing in the New York polls has been on the dismal side–eight percent on January 22, although that was when Rudy Giuliani and Fred Thompson were still showing up in the surveys. Mermel thinks that might change before February 5. With Giuliani gone, he said, "it leaves [Huckabee] the only conservative running.".
Support for Huckabee is relatively strong in Republican counties upstate, Mermel tells me. And then, there's his own influence. "I've heard many time from people, 'If Myers likes him, we really need to consider him.' [They say], 'Myers is a serious guy and he takes things seriously.'".